Main Menu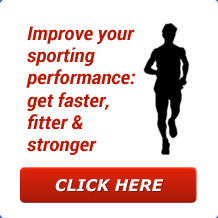 Latest Blog Entry
A review of Jerome Simian's workshops on physical preparation for sport. I had to choose between different "strands" of coaching topics at the IFAC conference in Loughborough. A difficult choice, not wanting to miss out on some excellent speakers. I chose to attend Simian's because of a quote I heard on the HMMR podcast: "I […]
User login
Athlete Support Day: Exeter.
Getting Bullet Proof Athletes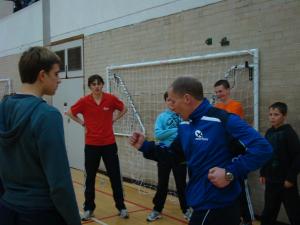 was one of four workshops I delivered last Wednesday at the latest Athlete Support Day hosted by Exeter University.
Young athletes are under time and money pressures, with either too much competition, or poorly designed training programmes leading to injuries.
The first workshop looked at how to incorporate 5 key exercises regularly to help bullet proof your body.
Guest Speaker: Paralympian Coach Gary Knight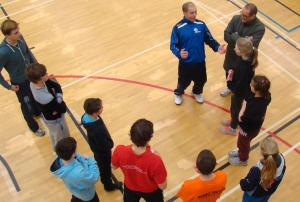 One of the coaches from the Paralympics, Gary Knight of the GB Blind football team, gave an insight into the demands placed upon footballers at this event.
The young sports people were able to ask questions about the game itself and also how the footballers prepared.
I then put the aspiring athletes through their paces with a challenging speed development workshop using drills and practices I have learnt from some of the World's best speed coaches: Frans Bosch and Gary Winckler. This challenged their coordination immensely, as well as targeting muscles that they have not been using for a while.
This demanding session created a thirst, so whilst rehydrating, the athletes took part in a Hydration Myth Busting interactive quiz and talk.
The day finished when the Athletes were asked to put into practice their own ideas by creating games.
Play is an important part of Long Term Athletic Development, so rather than getting well drilled athletes, the aim is to get creative thinkers.
We want Athletes to be adaptable, both physically and mentally to the demands of competition, rather than adapted to their familiar drills and environments
Upcoming workshops
The aim of the Athlete Development Centre is to challenge, educate and improve the performance of young sports people, as well as educate coaches and parents of latest and best practices.
The next Athlete Support Day is in Spring Half Term. I also run weekly training sessions on a Wednesday night, also hosted by Exeter University. All teenage sports people are welcome.
For coaches, I am running two SPEED Training workshops at the Peninsular Coaching Conference at Marjons University on April 21st. A few places are still available. For further information contact me here
Client Testimonials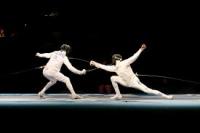 South WestFencing Hub
Working with James has been a pleasure and education for all of the fencers and coaches, from beginner fencers and trainee fencers, up to international fencers and coaches with decades of experience. We really appreciate James' desire to challenge assumptions but simultaneously his ability to listen to both fencers and coaches on technical and tactical points. He manages to keep his sessions fresh and innovative without losing sight of our central goals. His sessions are challenging and fun and his attention detail is a tribute to his professionalism. Thank you.
More
Upcoming Courses
Athletic Development Coach – WILLAND
20 Feb 2019
Athletic Development Coach Venue: WILLAND Date: Wednesday 20th February. Time 0900-1630. Booking deadline Friday 8 February Is the 'Athletic Development Coach' course for me? This particular course is for our junior members to attend. If you are interested in attending please contact Carly. What will I learn? Course Goals and Objectives Candidates will be expected […]