Main Menu
Latest Blog Entry
How to prevent overtraining in young athletesOvertraining is common in young athletes due to the high demand put on them by schools and sports teams. Schools will get talented young athletes to compete in as many sports as possible and these same athletes will also train outside of school for a team they play for in one or more sports.An example week in the life of a young athlete –Monday – P.E., School netball trainingTuesday – School hockey training, Team netball training
User login
Congratulations to our BUCS Champions
Jenny McGeever and Chris Hay win the BUCS championships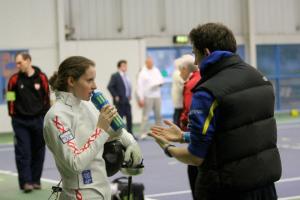 Epee experts Jenny and Chris won their resepctive competitions at the British University and Colleges Sport Championships in Sheffield.
Chris won his competition early in the day and is seen here offering Jenny his tips!
Jenny started the day well with 5V1D in the poules and easily made her way into the last eight.
The fight against Emily Jeanes did not start well with Jenny finding herself 2 – 7 down at the first period.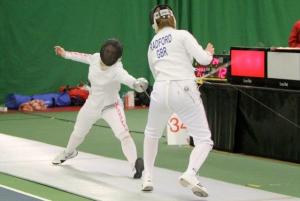 Bringing all her experience to bear, Jenny levelled the fight and went on to win earning herself a semi-final place against the Swedish fencer Louise Andren who is currently studying at Bath.
Having taken this match in her stride, Jenny went on to take the title in style with a with a 15 -12 win against Amy Radford.
Training to Win
I have been working with Jenny and Chris for 4 years now, starting on the South West Talent Scheme, now through self funding. Jenny just missed out on Olympic selection last year.
They study at St Mary's and Bath Universities respectively, but come back to train with me weekly or fortnightly. They are both trying their hand at Modern Pentathlon this year and we are working on running and swimming strength and fitness too.
It is great working with athletes for this amount of time (depsite NGBs best efforts to chop and change coaches every 6 months). We started with basic physical preparation trying to get the fencers more athletic, then moved to specific preparation, and now performance/lifestyle advice to manage their University/ Work/ new sport pressures.
It was great for them both to win again, as they have been middle of the pack so far in their Modern Pentathlon efforts. Watch this space…
Client Testimonials
College of St Mark and St John
James is an excellent and experienced Strength and Conditioning Coach. He is able to draw on these experiences to adapt and meet each client's specific needs. James is known for his engaging and dynamic style that has proved effective in producing results. Having worked with James, he is both organized and efficient. He also is an evidence based practitioner happy to engage in debate and take on new ideas. James rightly demands high standards and a good work ethic which reflects his own contribution to each situation
More
Upcoming Courses