Main Menu
Latest Blog Entry
How to prevent overtraining in young athletesOvertraining is common in young athletes due to the high demand put on them by schools and sports teams. Schools will get talented young athletes to compete in as many sports as possible and these same athletes will also train outside of school for a team they play for in one or more sports.An example week in the life of a young athlete –Monday – P.E., School netball trainingTuesday – School hockey training, Team netball training
User login
Creativity in Coaching
How do we become creative in our coaching?
For those of you studying at University, you may be under the impression that there is only one way of doing things. Try to look outside of the parameters of the people who are marking your assignments.
Here are some useful tips to get the ball rolling:
Get some space between you and the daily grind- 15 minutes of non-electronic communication\ noise time. It is difficult to be creative with your mind being full of bills\ work\ relationships.
Look at something different that you have never read or seen before, something completely unrelated to the norm. E.g. read Good Housekeeping magazine,watch how a beetle moves, or study a postcard in detail. Then write down 3 things that you have observed, or learnt.
Creative coaching to help solve problems
Once your mind is a bit clear, and you have been exposed to some new ideas or concepts, then it is time to try and apply this to your coaching or training.
You have written down 3 things that you have observed, now write down your 3 best coaching points and your 3 biggest coaching problems.
See how you can connect the good coaching with your problem via one of your observations on a non related subject.
It sounds bizarre, but in order to change, you have to try looking at things from a different perspective.
It is a lot more interesting than just copying someone else's drills.
Further Reading:
A Crash Course in Creativity from Tina Seelig at Stanford University.
Client Testimonials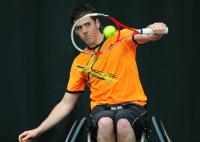 Josh Steels: wheelchair tennis
I started working with James 3 years ago via the TASS programme. When James first met me, physically I was nowhere the best I could be. Since working with James I have seen vast improvements in my fitness and strength which has been put into great use on court.Each session is worked around making sure I am able to get the best quality training as well as catering for my chronic pain and fatigue levels. On top of this James has always been happy to meet at facilities that are best for myself meaning I could fit training sessions in on route to tournaments or camps.
More
Upcoming Courses