Main Menu
Latest Blog Entry
Excelsior AD Club newsletter March 2019 We have had so much happen in the last month, and exciting things happening in the run up to Easter, it is best to keep them all in one place. So here you go. 6 members complete their Athletic Development Coaching Course Archie, Daisy, Flora, Jakin, Rebecca and Stephanie […]
User login
Flying the flag in Houston
World Class line up at GAIN conference
I am off to Houston today to attend Vern Gambetta's GAIN conference for the third year in a row. There is an excellent faculty lined up to present.
I am especially looking forward to learning from Steve Magness about endurance training to help the middle distance runners and Modern Pentathletes I coach.
It will also be Gary Winckler's last coaching session before he retires. I will be picking his brain for speed development tips.
Combine that with Jim Radcliffe, Bill Knowles the physical education strand, plus all the practical workshops, discussions and Gambetta himself leads to a good start.
However, it is the opportunity for cross fertilisation of ideas and perspective from physical education specialists (different from games teachers!), physiotherapists, sports coaches, athletic trainers, athletic development coaches, authors, scientists and strength coaches from different countries that is the real benefit of this conference.
Apparently I am the only British delegate this year (fellow Brit Kelvin Giles is one of the faculty). I invest the time and money into going because I think my athletes deserve it. I pass this information down to them through programming: directly or indirectly.
I also share the information to the coaches I work with through their ongoing CPD programme.
Watch this space for more details.
Client Testimonials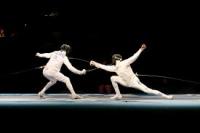 South WestFencing Hub
Working with James has been a pleasure and education for all of the fencers and coaches, from beginner fencers and trainee fencers, up to international fencers and coaches with decades of experience. We really appreciate James' desire to challenge assumptions but simultaneously his ability to listen to both fencers and coaches on technical and tactical points. He manages to keep his sessions fresh and innovative without losing sight of our central goals. His sessions are challenging and fun and his attention detail is a tribute to his professionalism. Thank you.
More
Upcoming Courses
Sports Performance Workshop: Willand
10 Apr 2019
Sporting success starts here
Are you a sporting teenager who wants to get better?
Do you play more than 1 sport?
Do you want specific advice on how you can prepare for the matches ahead?
Do you want to know how to balance school/ club sporting commitments?
This day is for you.
The Day will include: