Main Menu
Latest Blog Entry
Excelsior AD Club newsletter March 2019 We have had so much happen in the last month, and exciting things happening in the run up to Easter, it is best to keep them all in one place. So here you go. 6 members complete their Athletic Development Coaching Course Archie, Daisy, Flora, Jakin, Rebecca and Stephanie […]
User login
How to choose a skipping rope
 "What skipping rope should I buy?"
is something I am asked every week. Skipping is one of the basic exercise movements we encourage at Excelsior  for almost all our athletes.
Here are 5 reviews of the most popular skipping ropes our athletes have used and some advice on how to use them. (Jump rope for people in the USA). This will help you understand how to choose a skipping rope.
What size jump rope should I buy?
If you stand on the middle of the rope, with feet together, then the handles should reach between your waist and your lower ribs. If the handles come to your shoulders, then the rope is too long. If they come below your waist it is too short.
Beginners should start with a longer rope; as you get better at skipping, you can shorten the rope, until the handles are just above your hips.
This rope is cheap, lightweight and good for moving at speed. This means it can be carried anywhere and is easily packed. This one is popular for warm ups and pre competition routines. It is great for holidays and business travel.
The disadvantages are that it is not so good for complicated footwork patterns. With repeated use, the handles shear off, or the base gets worn out if skipping on concrete. But at this price, it is easily replaced. Great for beginners.
I have recently switched to using this speed rope with handles: more expensive but better for more complicated patterns. Great for experienced rope jumpers.
This rope is similar to the speed rope, but has a digital counter placed in the handle. It is designed to estimate the calories burnt, distance covered and revolutions of the rope. These are very inaccurate figures, but could provide a comparison from training session to training session. The same pros and cons apply as for the speed rope, but it is 3 times the price. Only recommended if you think counting helps you keep fit.
Speed rope with wooden handles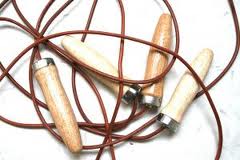 A very expensive rope, and can not be used fast. Despite what it says, this rope can only be used by low level or beginner skippers. The mechanism of eyelets and screws fall apart rapidly. Avoid.
The "Elite Surge Jump Rope".
I got sent this quite expensive rope to trial. The ordinary rope and handles work well, if a little light for my liking. The spare parts and different cables were frankly a pain to remove and change. Heavily marketed as "The best jump rope for crossfit": I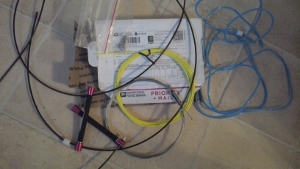 think the first speed rope (cheaper) and the Buddy Lee rope (good handles) are better options.
This type of rope feels nice when skipping. The weighted handles are good for wrist strength and muscular endurance of the forearms. The main disadvantage is the fragility of the plastic handles. The weights are metal, so when travelling they bang against the handles- I have broken 2 sets in my gym bag. This rope is great – as long as you don't intend to travel with it.
My personal choice is the weighted leather rope in the garage gym, the speed rope for when I am on the move. 
What is your favourite skipping rope?
How to start skipping
Skipping is a great exercise, if done well. It can be used as part of a workout, or as a training exercise on its own. If you feel inspired, then look at this video with some intermediate footwork patterns to get you started.
It can be done in short bursts, of 10-20 foot patterns to start, build up your confidence then add different skills.
Try each of these patterns before moving onto the next:
Start off with small numbers and do it well, otherwise a panic starts in and you end up tripping over the rope!
2 feet bounces: work up to 10 continuously then progress to 50
Alternate foot bounces: tricky to start, so get used to switching feet. One turn to start, then two, then three. Once you have got that, work to ten. Then look to get to 50.
Foot taps (on video) either tap toes alternately behind you, or heel in front of you.
Twist the body. Keep the skipping rope going forward, but twist your body left and right to get rotation work done.
Once you can do those, you are ready to get fancy.
Skipping fundamentals  and advanced techniques are taught on our Sports Training System
Good luck with your skipping.
Client Testimonials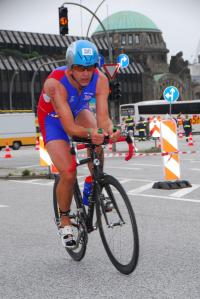 David Ardley- triathlete
I had the pleasure (I think !) of working with James for a year or so focused on getting my Triathlon times down. Its amazing what was achieved in the space of an hour before work. What stood out for me is the constant variation of exercises and his ability to set the difficulties levels just right. His sense of humour and competitive spirit always helped when my energy levels were not quite there. I can attribute his structured training to my eventual success competing in the World Triathlon championships (age group) in Hamburg.
More
Upcoming Courses
Sports Performance Workshop: Willand
10 Apr 2019
Sporting success starts here
Are you a sporting teenager who wants to get better?
Do you play more than 1 sport?
Do you want specific advice on how you can prepare for the matches ahead?
Do you want to know how to balance school/ club sporting commitments?
This day is for you.
The Day will include: