Main Menu
Latest Blog Entry
Excelsior AD Club newsletter March 2019 We have had so much happen in the last month, and exciting things happening in the run up to Easter, it is best to keep them all in one place. So here you go. 6 members complete their Athletic Development Coaching Course Archie, Daisy, Flora, Jakin, Rebecca and Stephanie […]
User login
How to cycle the length of Britain: Diary of an Intern
How to cycle the Length of Britain!
I believe the best way to see Britain is on a bike! So that's what I did….
I and 5 others decided to tackle one of the great British endurance challenges, cycling from Lands End to John O'Groats. It is said to be a distance of 874 miles, however for some reason we managed to make it last just over 1000 miles!
One of the common questions we were asked was 'why are you doing this?' Also a question a few of us asked ourselves! Some key reasons were highlighted:
To challenge ourselves
To have something to train/aim for
Fitness
As a holiday from work!?
For charity (Diabetes UK, Headway, Multiple Sclerosis and Alzheimer's society)
Preparation
We were all aware that this challenge would require a bit of training, considering none of us were regular cyclists!
I aimed to cycle one long ride a week and get out on the bike 2 or 3 other times a week for shorter rides. This doesn't seem much but with work commitments and hockey I will admit I struggled to achieve this in the first few weeks.
However having an end goal in sight motivated me to train! I think goals/targets are something all athletes should set themselves.
After a very cold winter, postponing our training, we managed to get on the bikes by the end of January.
Weeks 1-4 consisted of 20-30 mile cycles on flat and hilly routes.
Weeks 5-8 we upped the mileage to 30-40 miles but stuck to flatter routes for the longer rides
Weeks 9-12 more consistently riding 40-50 miles including big hills
Weeks 12-16 the mileage was upped to 55-70 miles
During weeks 9-16 I was also strength training, focusing on:
o Deadlift
o Back squat
o Front Squat
o Lunges
The Actual Ride
The training definitely made pedalling up those hills a lot more bearable. Although there was some sore legs and very sore bums, everyone was fit enough to complete the challenge. A full blog of our adventures can be found at www.lejogmay2011.blogspot.com.
Nutrition and hydration
Burning approx 500 calories an hour for 5-6 hours a day meant energy intake was essential. On average we needed to consume between 4500 and 5500 kcal a day. I used carbohydrate drinks during the day with full meals in the evenings, trying to include some protein for muscle recovery overnight!
It is advised to drink approx 150ml for every 15-20min of exercise – so approx 3 liters during the ride with 1-2 liters before and after. I'm not convinced I managed to drink anywhere near that amount, good job I wasn't racing!
Final Trip Statistics
Average Daily Distance: 73 miles
Total distance: 1007 miles
Average Speed: 12.5 mph
Time spent in the saddle: 79 hrs 29 mins
Estimated calories burnt: 39,750 Kcal
Total money raised: approx £700 for Diabetes (approx £4000 combined)
I really enjoyed the experience as a whole although some windy days were a struggle! It was nice to train for something other than hockey, my normal sport, and to challenge myself. I fully recommend it to anyone who likes the idea of putting their body through its paces.
Comments welcome, be good to hear from anyone else who has done this?
Client Testimonials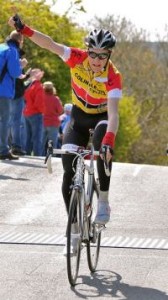 Seb Baylis + Tom Baylis
"James Marshall is now managing my two sons' strength and conditioning training for a fourth consecutive year. From the very start, youngsters and parents alike have easily engaged with James' professional approach and personable manner.Now both semi-professional cyclists aged 20 and 18, between them they have achieved numerous successes in the National Junior Series, including two stage wins, a silver medal in the National Championships, and selection for team GB in the Junior World Series.
More
Upcoming Courses
Sports Performance Workshop: Willand
10 Apr 2019
Sporting success starts here
Are you a sporting teenager who wants to get better?
Do you play more than 1 sport?
Do you want specific advice on how you can prepare for the matches ahead?
Do you want to know how to balance school/ club sporting commitments?
This day is for you.
The Day will include: