Main Menu
Latest Blog Entry
Excelsior AD Club newsletter March 2019 We have had so much happen in the last month, and exciting things happening in the run up to Easter, it is best to keep them all in one place. So here you go. 6 members complete their Athletic Development Coaching Course Archie, Daisy, Flora, Jakin, Rebecca and Stephanie […]
User login
How to prevent over training in teenagers
How to prevent over training in young athletes
Over training is common in young athletes due to the high demand put on them by schools and sports teams. Schools will get talented young athletes to compete in as many sports as possible and these same athletes will also train outside of school for a team they play for in one or more sports.
An example week in the life of a young athlete –
Monday – P.E., School netball training
Tuesday – School hockey training, Team netball training
Wednesday – P.E., School netball match, S+C training
Thursday – School cross country, Team hockey training
Friday – School hockey training, Team netball training
Weekend – Match/tournament (potentially 2 with different sports)
What is over training?
Over training is a condition (physical, psychological and behavioural) that happens when an individual's training regime is high in volume and intensity, and does not allow the body to recover from each training session.
Surely training more is better?
The more you train, the better you will become right? Yes, in a way, if you think training once a week won't give you the benefits that training four/five times a week will. But as you can see from the example week above, young athletes can train or play a match every day!
In order to improve, get stronger/faster etc. the body needs to recover and adapt. Young athletes bodies are also not fully developed, so they need rest to replenish their energy stores and grow let alone rest to allow their muscles to recover and adapt.
What are the signs of over training?
Signs can include –
Physiological
Excessive weight loss
Excessive loss of body fat
Increased resting heart rate
Decreased muscular strength
Increased submaximal heart rate
Inability to complete workouts
Chronic muscle soreness
Fatigue
Increased incidence of injury
Depressed immune system
Constipation or diarrhea
Absence of menstruation
Frequent minor infections/colds
Insomnia
Heart Palpitations
Lower Testosterone Levels
Higher Cortisol Levels
Psychological
Depression
Loss of appetite
Mood Disturbance
Irritability
Loss of motivation
Loss of enthusiasm
Loss of competitive drive
Performance
Early onset of fatigue
Decreased aerobic capacity
Poor physical performance
Inability to complete workouts
Delayed recovery
What can I do to make sure this doesn't happen?
Planning, diet and sleep are all vital when it comes to preventing over training.
Planning – The best thing to do to keep an eye on your training is to keep a log/diary.  You can record everything if you do this. Training, intensity, volume, rest, sleeps etc. Writing it down will help the you see where you can rest and recover. Planning will make sure you get this time.
Diet – Getting the right nutrients into the body to support it during the recovery process will help too. Going home after a hard training session and eating a chocolate bar or packet of crisps will not support the body. Getting a good balance of protein, fats and carbohydrates will help with recovery and replenish the energy stores.
Sleep – The most important part of the day in terms of letting your body rest and recover. Lack of sleep or poor quality of sleep will deter this process.
All three of these can be recorded. Over time, you may begin to see a pattern e.g. after a tough session in the evening, your sleep isn't as good and it affects you the next day. Seeing these patterns and learning about your body will give your training a boost and over training can be prevented.
Download this free e-book for more information on over training.
Client Testimonials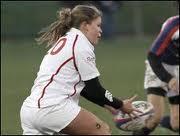 Georgina Rozario: England Scrum Half
I had the pleasure of having James as my first s&c coach when I was at University in Plymouth. I worked with him for 3 years and learnt everything I now know about training to the best of my ability. When I first saw James I was identified as a talented rugby player but had various injury and illness problems to contend with. By the end of my time with him I had become an athlete and later received my first international cap against the U.S.A.
More
Upcoming Courses
Sports Performance Workshop: Willand
10 Apr 2019
Sporting success starts here
Are you a sporting teenager who wants to get better?
Do you play more than 1 sport?
Do you want specific advice on how you can prepare for the matches ahead?
Do you want to know how to balance school/ club sporting commitments?
This day is for you.
The Day will include: