Main Menu
Latest Blog Entry
Excelsior AD Club newsletter March 2019 We have had so much happen in the last month, and exciting things happening in the run up to Easter, it is best to keep them all in one place. So here you go. 6 members complete their Athletic Development Coaching Course Archie, Daisy, Flora, Jakin, Rebecca and Stephanie […]
User login
How to reduce the risk of ACL injury for females.
Why are Females at Higher Risk of ACL Injury?
"Female athletes have a 4-6 times higher incidence of ACL injury than do male athletes participating in the same landing and pivoting sports" (1)
Hormonal changes: Hormonal changes during the menstrual cycle can have a direct effect on neuro-muscular performance.
Anatomical differences: Females have a smaller intercondylar notch, therefore a smaller ACL.
An Increased Q Angle will influence landing technique negatively.
Slower reaction times: Females have slower and less efficient reaction times due to different neuro-physiology i.e.differences in spinal motor control.
Poor landing mechanics: Reduced leg power will cause an increased reliance on the quadriceps and ligamentous structures at the knee and ankle .An increased Q angle in females has a direct impact on landing mechanics.
Less power: Females have reduced power and muscle development.
"Implementation of practical neuro-muscular warm-up strategies can reduce lower extremity injury incidence in young, amateur female athletes." 
(2)
Reducing the risk of ACL injury
This diagram summarises the key factors found in recent research on preventing ACL injuries in female athletes.
Screening: Musculo-skeletal screening can help identify specific problem areas for each individual athlete
Footwear: Wear appropriate and good quality footwear to facilitate good foot/ankle mechanics and help control ground reaction forces.
Conditioning: Functional conditioning work, related to individual screening outcomes and specific to sport requirements. To include stretching, strengthening, plyometrics, review of landing techniques, sports specific drills and balance exercises.
Warm Up: Use practical neuro-muscular warm-up strategies (see conditioning work).
Oral Contraceptives: Use of oral contraceptives pre-competition has been shown to have an effect. Reearch is hampered by ethical concerns.
Further Reading: 
References:
Hewett et al American Journal of Sports medicine March 2006 34(3) 490-498
Herman et al BMC Medicine July 2012 19 10(75)
 Stojanovic et al Research in Sports Medicine July 2012 20(3-4) 223-238
 Walden et al British medical Journal May 2012 344 e3042
 Irmischer et al Journal of Strength and Conditioning Research November 2004  18(4) 703-707
 Sarah Marshall  Chartered Physiotherapist
Client Testimonials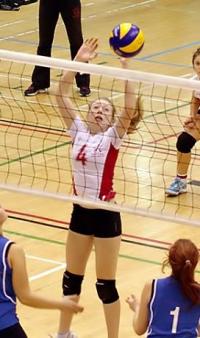 Helen Farr
The access to expert advice on training and coaching in the STS has been extremely beneficial when guiding Helen (15) through different stages of her physical development. Time is very precious and especially as busy parents of even busier teenagers, we need all the help we can get. As well as following the programme, it has been really useful to dip into certain topics as and when situations occur. Advice on how to prevent and counteract knee problems was certainly helpful when Helen started complaining that 'her knees were hurting' directly after competitions.
More
Upcoming Courses
Sports Performance Workshop: Willand
10 Apr 2019
Sporting success starts here
Are you a sporting teenager who wants to get better?
Do you play more than 1 sport?
Do you want specific advice on how you can prepare for the matches ahead?
Do you want to know how to balance school/ club sporting commitments?
This day is for you.
The Day will include: