Main Menu
Latest Blog Entry
Excelsior AD Club newsletter March 2019 We have had so much happen in the last month, and exciting things happening in the run up to Easter, it is best to keep them all in one place. So here you go. 6 members complete their Athletic Development Coaching Course Archie, Daisy, Flora, Jakin, Rebecca and Stephanie […]
User login
Let your child play sport rather than just compete
Children need to play more and compete less
Children who get injured or burntout may be competing at sport too much and have too little opportunity to just play. These words on shoulder operations by Hall of Fame baseball player John Smoltz ring very true.
"I want to encourage the families and parents that are out there to understand that this is not normal to have a surgery at 14 and 15 years old. That you have time, that baseball is not a year-round sport. That you have an opportunity to be athletic and play other sports.
Don't let the institutions that are out there running before you guaranteeing scholarship dollars and signing bonuses that this is the way. We have such great, dynamic arms in our game that it's a shame we're having one and two and three Tommy John (shoulder operation) recipients.
So I want to encourage you, if nothing else, know that your children's passion and desire to play baseball is something that they can do without a competitive pitch. Every throw a kid makes today is a competitive pitch. They don't go outside, they don't have fun, they don't throw enough – but they're competing and maxing out too hard, too early, and that's why we're having these problems. So please, take care of those great future arms."
Baseball Hall of Fame induction speech, former Atlanta Brave pitcher John Smoltz
If an adult is present, then the sport is organised. If the kids are left to their own devices they play more, compete with each other and on their own terms.
Further reading :
Client Testimonials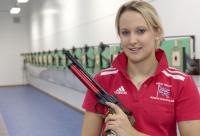 Louise Helyer – Modern Pentathlete, Commonwealth Games Silver Medallist Epee
I have been working with James since September 2009, with a history of becoming injured in winter months our main goal was to over come this and help my core/hip area to become more stable thus enabling me to run at my full potential. Not only have I made it through the winter months without gaining the usual knee injuries I have also improved my performance to currently become one of the top ranked athletes.
More
Upcoming Courses
Sports Performance Workshop: Willand
10 Apr 2019
Sporting success starts here
Are you a sporting teenager who wants to get better?
Do you play more than 1 sport?
Do you want specific advice on how you can prepare for the matches ahead?
Do you want to know how to balance school/ club sporting commitments?
This day is for you.
The Day will include: