Main Menu
Latest Blog Entry
Excelsior AD Club newsletter March 2019 We have had so much happen in the last month, and exciting things happening in the run up to Easter, it is best to keep them all in one place. So here you go. 6 members complete their Athletic Development Coaching Course Archie, Daisy, Flora, Jakin, Rebecca and Stephanie […]
User login
Reverse engineering the Olympic Lifts
Beware of the "research" about Weight Lifting
If you have invested heavily in researching the Olympic lifts and read research conducted on mediocre athletes or sports science students over a 6 week period, then you may have to justify their use at all times.
This could be an emotional attachment. You then look to seek out others with your point of view and add confirmation bias to this. If this happens to be Academics, then they will only publish work that confirms their views, and get undergraduates, and Phd students to do likewise.
What you then need to do is to set up an organisation or association that "accredits" members who also then use Olympic Lifts for all athletes at all ages and stages of training.
Then you charge for courses, conferences and CPD points– and you are onto a winner.
Of course, you could just Coach some real people, over time, in real life situations and use what ever methods will suit that athlete.
But how could you get that published?
 Come and train at our Weight lifting Club in Devon
Client Testimonials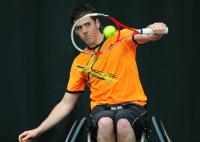 Josh Steels: wheelchair tennis
I started working with James 3 years ago via the TASS programme. When James first met me, physically I was nowhere the best I could be. Since working with James I have seen vast improvements in my fitness and strength which has been put into great use on court.Each session is worked around making sure I am able to get the best quality training as well as catering for my chronic pain and fatigue levels. On top of this James has always been happy to meet at facilities that are best for myself meaning I could fit training sessions in on route to tournaments or camps.
More
Upcoming Courses
Sports Performance Workshop: Willand
10 Apr 2019
Sporting success starts here
Are you a sporting teenager who wants to get better?
Do you play more than 1 sport?
Do you want specific advice on how you can prepare for the matches ahead?
Do you want to know how to balance school/ club sporting commitments?
This day is for you.
The Day will include: