Main Menu
Latest Blog Entry
"A pessimist complains about the wind, an optimist waits for it to change, a leader adjusts the sails." (source unknown) sent by John Mallett.
User login
Athletic Development : young athletes in action
A sample of what we do at Excelsior, here are highlights from the final South West Talent Support Day
Client Testimonials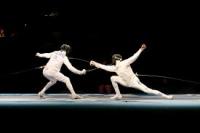 South WestFencing Hub
Working with James has been a pleasure and education for all of the fencers and coaches, from beginner fencers and trainee fencers, up to international fencers and coaches with decades of experience. We really appreciate James' desire to challenge assumptions but simultaneously his ability to listen to both fencers and coaches on technical and tactical points. He manages to keep his sessions fresh and innovative without losing sight of our central goals. His sessions are challenging and fun and his attention detail is a tribute to his professionalism. Thank you.
More
Upcoming Courses