Main Menu
Latest Blog Entry
Excelsior AD Club newsletter March 2019 We have had so much happen in the last month, and exciting things happening in the run up to Easter, it is best to keep them all in one place. So here you go. 6 members complete their Athletic Development Coaching Course Archie, Daisy, Flora, Jakin, Rebecca and Stephanie […]
User login
3 pillars of athletic development: Kelvin Giles
"Great coaches find a way or make one"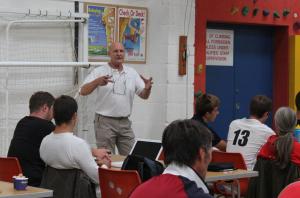 Kelvin Giles presenting his "Quest for physical literacy" at the Excelsior Athletic Development Centre on Monday.
The theme was putting precision, variety and progression into the coaching and teaching of young people at every opportunity.
Kelvin gave a great one day workshop which had coaches, parents, teachers, physiotherapists and also 4 junior international athletes attending.
The 3 pillars of athletic development
Kelvin outlined his take on this:
Cardiorespiratory (metabolic) efficiency: the running, swimming, cycling that gets the heart and lungs working.
Nutritional quality: what the athletes put into their mouths and bodies.
Mechanical (movement) efficiency: the focus of the day.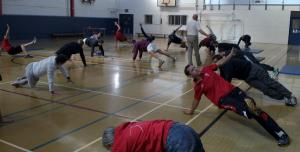 When looking at mechanical efficiency, the load must be determined by the quality of the technique.
That load is either: speed, distance, volume, direction, complexity or the surface upon which it is performed.
When all of this is perfect, only then can you progress.  "Function before sports specific skill, force, speed or endurance."
This is criterion based progression:  the athlete must earn the physical right to progress. The adaptation must be permanent and consistent.
(Compare that with the norm which is "no weights until you are 16, now we start with power cleans", or "you can't do a body weight squat? Never mind, get in the smith machine and we can add some weight because you are too skinny" James' rant over).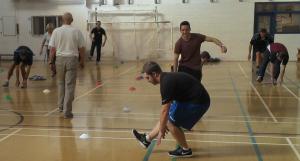 Kelvin gave examples of this, and we started with a lot of squat variations, followed by physical competency assessments.
I have done this 4 times previously with Kelvin, but always learn something new. Today it was that spending 4 hours in a car leads to tight hamstrings!
The state of the nation
Kelvin spent a good portion of the day outlining the data and research behind our lack of physical ability.
As a coach of young people, or even senior clubs and teams, it is easy to concentrate on "performance outcomes" either in the gym or in the win/ loss column. However, it is important to remember where these athletes are coming from.
It is alright having "medal targets" for Rio and Tokyo Olympics, but the simple fact is that we have a young generation of unfit, overweight kids who struggle to move properly. Kelvin laid this out very well.
It is everyones' responsibility to help solve this problem. The answer isn't with p.e "specialists" being put into primary schools and chucking a ball at 30 kids and saying "play a game".
The answer isn't with hordes of sports science students being able to recite force/ time relationships or measuring Vo2 max on a treadmill but unable to coach a press up or a squat properly. Let alone sequence those movements into a meaningful, engaging coaching session.
The answer lies with better coaching and teaching:"If you don't chase precision, you are supporting mediocrity". 
"Kids aren't afraid of hard work, the're afraid of boredom". Wayne Goldsmith
"My butt is killing me"

The last hour of the day was all practical with Kelvin taking the group through some lunge progressions, sway drill variations and single leg squat variants.
"Are we teaching/ coaching them to discover, or to be robotic?" Kelvin put all his theory and experience into practice.
This was a great example of how good coaching and using time and space can create overload, rather than justing adding weight. "The minute you put a bar on someone's shoulders you slow them down".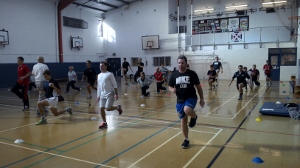 With minimal coaching cues, Kelvin set tasks that their bodies had to solve: linear, lateral, rotational, squatting, bracing, hinging. So much variation and fun, with just the body.
As Steve Myrland says "Complex equipment tends to yield simplistic results, simple equipment tends to yield complex results
Summary and the way ahead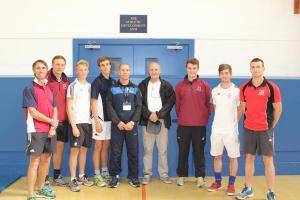 Exeter school provided the venue and it was great to see their teaching and coaching staff making the most of this opportunity.
They have recently opened their Athletic Development Gym and have implemented some great programming ideas.
Thanks to everyone who took part, and especially to Kelvin for once again delivering a great workshop (following on from his session at Willand School, I have been helping them further implement the ideas).
Contact me if you would like a similar course run near you
Client Testimonials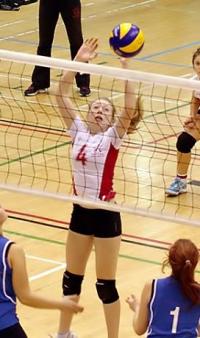 Helen Farr
The access to expert advice on training and coaching in the STS has been extremely beneficial when guiding Helen (15) through different stages of her physical development. Time is very precious and especially as busy parents of even busier teenagers, we need all the help we can get. As well as following the programme, it has been really useful to dip into certain topics as and when situations occur. Advice on how to prevent and counteract knee problems was certainly helpful when Helen started complaining that 'her knees were hurting' directly after competitions.
More
Upcoming Courses
Sports Performance Workshop: Willand
10 Apr 2019
Sporting success starts here
Are you a sporting teenager who wants to get better?
Do you play more than 1 sport?
Do you want specific advice on how you can prepare for the matches ahead?
Do you want to know how to balance school/ club sporting commitments?
This day is for you.
The Day will include: