Main Menu
Latest Blog Entry
"A pessimist complains about the wind, an optimist waits for it to change, a leader adjusts the sails." (source unknown) sent by John Mallett.
User login
Athletics Club
Excelsior ADC: Athletics
Welcome to our Athletics Club page. We have weekly sessions in the Spring and Summer that are open to all, plus workshops and seminars. We are a fully affiliated Athletics Club and a member of British Athletics.
We accept athletes who are in school year 5 and above. Before that, we recommend they get outside and play and enjoy school activities.
Summer Training 2019: 
Monday 8th April Exeter Arena 1330-1530. High jump, sprint starts and technical work for long jump, triple jump. £10.
Thursday April 25th until Thursday May 23rd (5 week block). 
Thursday 6th June to Thursday 25th July (no training 13th June) 6 week block.
Time: 1730-1830.
6 week block is £24 (18 for those also doing gymnastics), 5 week block is £20 (£15 for gymnasts). 
Club membership is £5 per year (up to October 1st).
First Thursday will be sprints and hurdles at the Jubilee Field in Willand
Second Thursday will be jumps and throws at Cullompton Community College (CCC) at the back entrance.
Sessions will then alternate between those two venues.
We shall also hold two specialist high jump and track sessions at Exeter Arena, dates tbc.
Competition: We will enter the Exeter Open on the last Tuesday of May and August. We encourage and support the schools led competitions in Devon which take place in the summer term as part of our philosophy of Long Term Athlete Development. This has been expressed several times by our athletes.
Feedback from the athletes
At the end of their each block of training, every athlete is asked to provide some feedback anonymously. Here is what they had to say after the September block: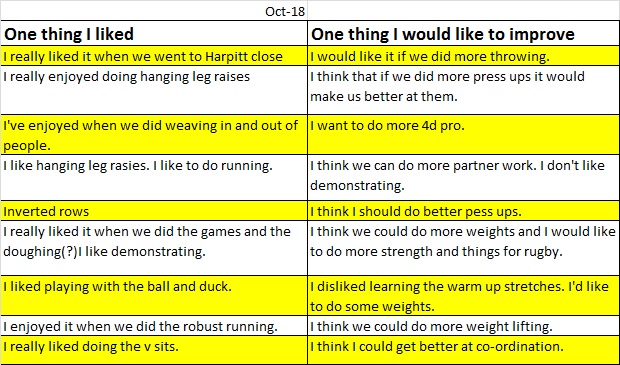 I shall use this information to adjust what we do accordingly. Thanks to everyone for this useful information.
The programme shall be self-contained, but will provide foundation for future work. It will include: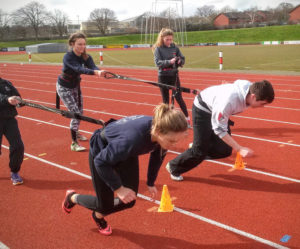 Whilst the benefits of running are well known, there are also risks of just being a runner: overuse, monotony, one dimensional approach to fitness. As a member of the Excelsior ADC you will benefit from expert coaching to help you get better at running, but also be fitter and healthier overall.
Head Coach James Marshall is the author of Run Faster and has coached athletes from many sports to run faster. He designs the training sessions with the participants ability in mind. He is a fully licenced Athletics Coach with British Athletics
An example of the coaching tips you get is here:
For those wanting Individual running coaching with James Marshall, see the Run Faster page. 
Our base is in Willand, Cullompton,Devon, Ex15 2RN. This is only 15 minutes from Tiverton and Wellington in Somerset, only 25 minutes from Honiton, Exeter and Taunton in Somerset.
Further reading:
Should I start running? 
Client Testimonials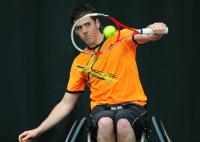 Josh Steels: wheelchair tennis
I started working with James 3 years ago via the TASS programme. When James first met me, physically I was nowhere the best I could be. Since working with James I have seen vast improvements in my fitness and strength which has been put into great use on court.Each session is worked around making sure I am able to get the best quality training as well as catering for my chronic pain and fatigue levels. On top of this James has always been happy to meet at facilities that are best for myself meaning I could fit training sessions in on route to tournaments or camps.
More
Upcoming Courses