Main Menu
Latest Blog Entry
Excelsior AD Club newsletter March 2019 We have had so much happen in the last month, and exciting things happening in the run up to Easter, it is best to keep them all in one place. So here you go. 6 members complete their Athletic Development Coaching Course Archie, Daisy, Flora, Jakin, Rebecca and Stephanie […]
User login
10 Rebounder exercises for lower limb control
Improve Strength, Proprioception, Control and Ultimate Stability of the Lower Limb using a rebounder.
There are many physical benefits from using a trampette or rebounder e.g. improving cardiovascular fitness and core control.
As a Physiotherapist, I prefer to use a rebounder specifically to improve a client's strength, proprioception, control and ultimate stability of the lower limb.
The exercises listed below are suitable for any person who wishes to improve the stability of their lower limb joints. I have included easy, intermediate and advanced exercises for guidance.
Part of the Solution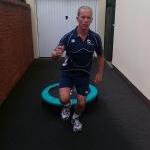 It is recommended that the more difficult tasks are perfected on a stable surface before progressing to a rebounder or unstable surface.
These drills are especially useful for our clients who are recovering from a hip/knee/ankle injury or surgery (most ACL conservative or post-op protocols will include rebounder work).
Athletes without injury will also find these exercises of benefit to help prevent injury and improve performance, in conjunction with their stable surface training. The rebounder adds a new stimulus which can then lead to adaptation.
On the other hand, those with osteoarthritis will favour the use of a rebounder for gentle and functional movements as it reduces the joint impact forces.
IF YOU ARE POST INJURY OR SURGERY, PLEASE CONSULT YOUR LOCAL THERAPIST BEFORE USING THESE SUGGESTED EXERCISES.
EASY
1 Heel raises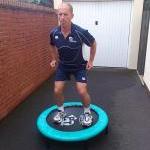 2 Jogging
3 Jumping
4 Single leg stands
INTERMEDIATE
5 single leg squat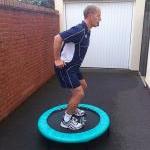 6 Hopping/alternate leg hopping
7 Jog/balance
8 Directional squat jumps
ADVANCED
9 Jump on/off (straight or multi-directional)
10 Hop on/off (straight or multi-directional)
Check the video here:
Remember progress from:
Stable to Unstable
Single reps to multiple reps
2 feet to one foot
Single plane to multi directions
Sarah Marshall
Chartered Physiotherapist
Client Testimonials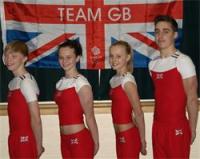 Weston AGC
I first met James at a South West Gymnastic conference and thought he was superb then, and still do! James' ability to adapt to different sports and levels is excellent, and he is superb at getting his message across to different ages of gymnasts. He did a workshop at our club for our competitive gymnasts and it was superb, His work was of great value to a wide range of ages and levels, with a tremendous emphasis on posture and injury prevention. We have been able to put his training methods into practice and are seeing an improvement in the all round strength and fitness of our gymnasts.
More
Upcoming Courses
Sports Performance Workshop: Willand
10 Apr 2019
Sporting success starts here
Are you a sporting teenager who wants to get better?
Do you play more than 1 sport?
Do you want specific advice on how you can prepare for the matches ahead?
Do you want to know how to balance school/ club sporting commitments?
This day is for you.
The Day will include: