Main Menu
Latest Blog Entry
Excelsior AD Club newsletter March 2019 We have had so much happen in the last month, and exciting things happening in the run up to Easter, it is best to keep them all in one place. So here you go. 6 members complete their Athletic Development Coaching Course Archie, Daisy, Flora, Jakin, Rebecca and Stephanie […]
User login
Strength Ratios for Squats and Deadlifts
Following on from our blog on Front Squat vs Back squat, here is some information about what you might be aiming for with deadlift squat ratios.
Strength ratios
The table below shows an estimate of the weights you should be able to lift based on other exercises. I.e. if you can back squat 80kg you should be able to Deadlift 100kg's.
Please note these are only approximate values which can be greatly affected by technique and vary among individuals. So avoid using them as written rule!
| | | |
| --- | --- | --- |
| Deadlift | Back Squat | Front Squat |
| ~100% | ~80% | ~68% (85% of BS) |
| 60kg | 48kg | 40kg |
| 70kg | 56kg | 48kg |
| 80kg | 64kg | 54kg |
| 90kg | 72kg | 61kg |
| 100kg | 80kg | 68kg |
| 110kg | 88kg | 75kg |
| 120kg | 96kg | 82kg |
| 130kg | 105kg | 90kg |
| 140kg | 112kg | 95kg |
| 150kg | 120kg | 102kg |
| 160kg | 128kg | 109kg |
For example, if you are practiced at the Deadlift but not the back squat, it is unlikely you will be able to back squat up to 80% of your Deadlift 1RM.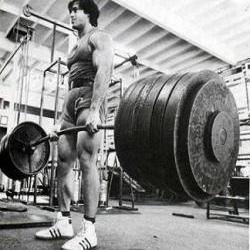 If beginning a new exercise it is better to underestimate your rep max as you can always add more weight!
If you lift too heavy the chances are YOU WILL BREAK!
In summary you should be able to back squat more than you can front squat,  and Deadlift the same or more than you can back squat.
These are some of the lifts used in our Get Stronger programme here. 
Client Testimonials

David Lloyd Tennis Academy
James is much liked and respected by all the players both because of his wide knowledge of tennis specific fitness and his ability to communicate the content.
More
Upcoming Courses
Sports Performance Workshop: Willand
10 Apr 2019
Sporting success starts here
Are you a sporting teenager who wants to get better?
Do you play more than 1 sport?
Do you want specific advice on how you can prepare for the matches ahead?
Do you want to know how to balance school/ club sporting commitments?
This day is for you.
The Day will include: