Main Menu
Latest Blog Entry
"A pessimist complains about the wind, an optimist waits for it to change, a leader adjusts the sails." (source unknown) sent by John Mallett.
User login
Recommended reading for coaches and teachers
Recommended reading for coaches and teachers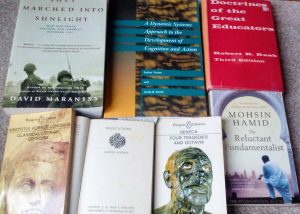 Over the last 10 years I have been recommending books to teachers and coaches who have attended our strength and conditioning, movement efficiency, athletic development, educational gymnastics and physical literacy workshops.
I read somewhere between 40-80 books a year, so the list expands and refines. It is easy to get caught up in the latest fad, these here have stood the test of time.
General Coaching
You Win in the Locker Room First: Jon Gordon + Mike Smith. Short and clearly written book looking at how to build a culture of success.
InsideOut Coaching: Joe Ehrmann. How a coach working with young people can transform lives. Looks at the "soft skills" of coaching such as empathy, communication, understanding.
Practice Perfect: Doug Lemov, Erica Woolway, Katie Yezzi. A "teaching book" but breaks down how to set up practices and evaluate in small lessons. Designed for busy people who want to get better.
You Haven't Taught Until They Have Learned: Swen Nater + Ronald Gallimore. Succinct look at John Wooden's coaching philosophy and how to apply that to your coaching. Quotes, examples and checklists included.
Coaching Better Every Season: Wade Gilbert. Useful for Head Coaches who want to develop their own programme. Detailed and well researched with great examples and tools to use. Better resource than anything I have received on a coaching course.
Physical Education (not games teaching)/ Athletic Development.
Athletic Development: Vern Gambetta. He coined the phrase Athletic Development. This book covers the major areas.
Total Training for Young Champions: Tudor Bompa. Nicely laid out book with good pictures and exercises for developing young people. Good starting point for the part time coach.
Children and Sports Training: Jozef Drabik. Detailed look at physiological development of children and age appropriate training sessions for them.
Physical Fitness & Dynamic Health: Thomas Cureton. The "Godfather" of p.e. writes how to get fit and benchmarks for performance for average people. This includes many different types of fitness tests that are practical and easily administered.
Physical Education for Children: A Focus on the Teaching Process. Ed B.J. Logsdon. A look at the developing child and movement education. How to use gymnastics, games and dance to develop the child. Outstanding.
Movement Efficiency for Developing Athletes: Kelvin Giles. Short book, but full of clear information and useful examples. Really should be part of physical educators' toolbox.
Training Young Athletes: James Marshall. Overview of Long Term Athletic Development, followed by practical training sessions for different sports.
Strength
Circuit Training for All Sports: Scholich. Lots of practical ideas based on sound physiology and training principles.

Starting Strength: Mark Rippetoe. If you want to know how to perform the 5 key barbell lifts, then this is a great starting point. Well laid out, with very useful diagrams and mechanics.
Wrestling Physical Conditioning Encyclopedia: John Jesse. More to it than strength, but it is very good on practical exercises using body weight, partners, dumbbells, barbells and sandbags.
Strength Training and Coordination: An Integrative Approach: Frans Bosch. Advanced look at how to train athletes using motor learning research. Heavy going, but worth it.
Get Stronger: James Marshall. Ebook with 12 week programme and video clips.
(Review of Weightlifting books is here: https://excelsiorgroup.co.uk/blog/weightlifting-books-review/ )
 Athletics
Track and Field Omnibook: Ken Doherty. Comprehensive overview of all the events and how to prepare for them. Provides in depth physical, tactical and technical details.  Very good on the overall coaching process too.

Track and Field: Athletics Training in the G.D.R. (East Germany). Editor G. Schmolinsky. Very detailed technical handbook from 1978. Ingrained with socialist principles at the beginning. The sprints, throws and jumps sections are very good, the middle distance and endurance are ok. The preparation and specific and general exercises are excellent.
Running: Frank Bosch and Ronald Klomp. Extremely detailed and well- illustrated book on how to run efficiently with corresponding exercises to help. Will require multiple readings.
Science of Running: Steve Magness. Very useful for middle distance runners and above. Myth busting about parameters such as Vo2 max. Well researched and great rationale for designing sessions.
Run Faster: James Marshall. Ebook with video links to speed drills, exercises and programmes.
Jump Higher: James Marshall. Ebook with plyometric drills and leg strength exercises to help your Vertical Jump.
Gymnastics
Teaching Gymnastics : E. Mauldon + J. Layson. Covers most of Laban's themes of movement and applies to school settings.  Good examples throughout.

A Movement Approach to Educational Gymnastics: Ruth Morrison. Contains earliest reference of term "Physical Literacy" that I have found.

Olympic Gymnastics for Boys and Girls: Walter G Dunn. Very good resource on more "specific" gymnastics for intermediate recreational gymnasts. Contains 23 different types of vaults for example rather than just squat/ straddle that coaching courses use.
A Manual for Tumbling and Apparatus Stunts: Otto E. Reyser. Lots of simple and fun exercises, plus more advanced skills. Most of it not in formal gymnastics, so great for p.e. and parkour.
Leadership/ Management
The 4 Disciplines of Execution: McChesney, Covey +Huling. If you want to get things done, then this book will help you prioritise and focus.
Understanding Voluntary Organizations: Charles Handy. Essential for those who work in environments with lots of volunteers. Motivations vary and need nurturing.
Make it Stick: The Science of Successful Learning: Peter Brown, Henry Roediger + Mark McDaniel. As the title says, well researched and full of useful ideas on how to help you and other people learn. Avoid fads and "initiatives" and read this first.
Show and Tell: Dan Roam. Illustrated book on how to tell stories visually. Useful for those who have to present including coaches and teachers.
Tribes: Seth Godin. Why people join groups and stick with them.
Dynamic Groups at Work: H. Thelen. Superb book looking at how groups of people operate and how leadership can influence, shape and learn from this. Written in 1951, it stands up very well today. At some point the cult of the leader influenced thinking, this was very refreshing.
Sports Science
The Science of Sports Training : Tom Kurz. Very well written and easy to understand. Especially good on balancing different training cycles.
Sports Training Principles: Frank Dick. Detailed look at all aspects of sports training, used to be an 'A' level text book, but is way beyond that.
Therapeutic Stretching: Eyal Lederman. How to get more mobile using motor learning and practical guidance rather than just normal stretches.
The Chimp Paradox: Steve Peters. The best practical book on sports psychology. Takes you through many exercises to get a better understanding of where you are. Athletes are people first, so need to know themselves.
The Sports Gene: David Epstein. Thorough overview of importance of genetics in sports and how environment interacts with those genes.
How to Support a Champion: Steve Ingham. Excellent account of life as a physiologist supporting top athletes and their coaches. Essential read for those thinking of going into this field.
The Bigger Picture
Ideas That Matter: A.C. Grayling. Series of philosophical essays examining life.

A Guide to the Good Life: William B. Irvine. How stoicism applies to the modern world and what we can do to follow the principles.
Elements of Style: Strunk + White. The classic text on writing, grammar and communicating effectively.
Antifragile: Nassim Nicholas Taleb. Outstanding thought leader's book about how to get stronger in life. Myth busting about the wealth / education relationship of nations. Really attacks academia and the banking system and how innovation and originality occur through other means.
Thinking Fast and Slow: Daniel Lederman. Terrific analysis of how we think (or don't).
Client Testimonials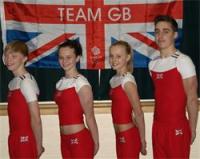 Weston AGC
I first met James at a South West Gymnastic conference and thought he was superb then, and still do! James' ability to adapt to different sports and levels is excellent, and he is superb at getting his message across to different ages of gymnasts. He did a workshop at our club for our competitive gymnasts and it was superb, His work was of great value to a wide range of ages and levels, with a tremendous emphasis on posture and injury prevention. We have been able to put his training methods into practice and are seeing an improvement in the all round strength and fitness of our gymnasts.
More
Upcoming Courses