Main Menu
Latest Blog Entry
Excelsior AD Club newsletter March 2019 We have had so much happen in the last month, and exciting things happening in the run up to Easter, it is best to keep them all in one place. So here you go. 6 members complete their Athletic Development Coaching Course Archie, Daisy, Flora, Jakin, Rebecca and Stephanie […]
User login
Are you fit enough to play in the Champions League Final?
Only the fittest will prevail.
As the world's top footballers prepare to meet in the Champions League Final this weekend, we explore what it takes to make it at the highest level.
Advances in Sports Science have revealed the highly energetic demands within the modern game, what we as coaches then do is help you get ready to play and meet those demands.
What is football fitness?
Modern footballers run about 10km within a 90 minute game. One Champions League Final saw Barcelona's Xavi cover a distance of 11.95km.
Due to the length of a football match, roughly 90% of energy release is aerobic (3), with the average oxygen uptake (VO2) for elite footballers measuring roughly 70% of maximum (1).
However in addition to sustaining effort for the full duration of a game, the ability to repeatedly produce rapid short bursts is vitally important.
Being able to run at speed and change direction quickly in order to beat an opponent to the ball or evade a tackle will give a player a significant advantage.
Top class players perform between 150-250 brief intense actions during a game, accounting for roughly 30% of activities within a game (1). The distance covered during high intensity efforts varies by position (2) and is shown below.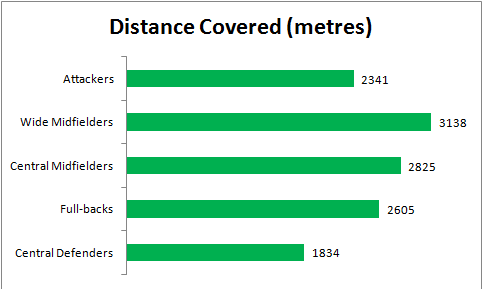 How can I get fit for football?
It is clear that footballers need the ability to work at high speed, to repeat the high speed activities regularly throughout a game and to continuously work at low intensity in between efforts. So how do you train all of these components together?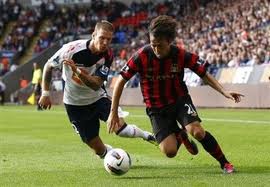 Before trying to increase the quantity of high intensity work in training, it is first necessary to train the quality of speed.
This will involve training straight line speed to improve the ability to run faster as well as agility to change direction at speed.

Changing direction is a very energy consuming movement, and the ability to do so efficiently will save energy which can be utilised later on.
Once the foundation of quality has been set, the quantity of high intensity work can be increased to improve speed endurance. Exercises such as shuttle runs and repeated sprints can be used to train speed endurance. However to more accurately mirror the demands of the game, football specific drills can be utilised.
(We are currently working with 3 members of the England team preparing for the Paralympics. Their game is different, but we use the same principles to help them get fit for intense competition).
Conclusion
To maximise the effectiveness of these training strategies, speed and speed endurance work should be done regularly and when the players are not fatigued.
Devote 10-15 minutes at the start of technical/tactical training sessions to speed and speed endurance work: this allows quality to be developed.
The lower intensity work can follow this and will provide the base for the continuous work capacity needed to sustain effort for the duration of a game.
This allows players to practice skills in a fatigued state, preparing them for a game situation. It is also important to monitor fitness through testing.
If you want to get fit for football without getting injured, then why not start now with our Sports Training System?
Matt Durber 
References
1)      Bangsbo, J., Mohr, M. & Krustrup, P. (2006) Physical and metabolic demands of training and match-play in the elite football player, Journal of Sports Sciences, 24 (7), 665-674.
2)      Bradley, P.S., Sheldon, W., Wooster, B., Olsen, P., Boanas, P. & Krustrup, P. (2009) High-intensity running in English F.A. Premier League soccer matches, Journal of Sports Sciences, 27 (2), 159-168.
3)     Hoff, J., Wisloff, U., Engen, L.C., Kemi, O.J. & Helgerud, J. (2002) Soccer
specific aerobic endurance training, British Journal of Sports Medicine, 36, 218-221.
Client Testimonials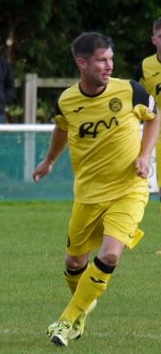 Scott Rogers: Footballer
I ruptured my ACL back in August 2015 playing football for Tiverton Town FC. Not only have I just returned to play again less than a year later with my knee feeling as good as it did prior to my injury,  but my my body in the whole feels like it was 10 years ago […]
More
Upcoming Courses
Sports Performance Workshop: Willand
10 Apr 2019
Sporting success starts here
Are you a sporting teenager who wants to get better?
Do you play more than 1 sport?
Do you want specific advice on how you can prepare for the matches ahead?
Do you want to know how to balance school/ club sporting commitments?
This day is for you.
The Day will include: