Main Menu
Latest Blog Entry
Excelsior AD Club newsletter March 2019 We have had so much happen in the last month, and exciting things happening in the run up to Easter, it is best to keep them all in one place. So here you go. 6 members complete their Athletic Development Coaching Course Archie, Daisy, Flora, Jakin, Rebecca and Stephanie […]
User login
Strength and Power Concepts, Jim Radcliffe
"The best way to get in shape is not to get out of shape."
Jim Radcliffe strength coach at Oregon University has been coaching there for 26 years (That is longer than most "S&C coaches" in the UK have been alive). Unlike a lot of people who have been in situ for a long time, he isn't resting on his laurels in a comfort zone of repeating the same thing year after year.
Instead he has developed an outstanding sequence of practices and structures that allow him to deal with big numbers of big guys in limited time. Here is a review of some of his workshops at GAIN in 2011.
The Warm Up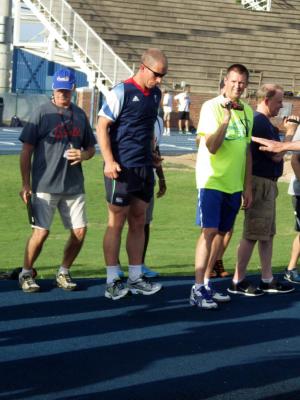 Teach and train the warm up. Working on "pillars of strength" routines that warm up the body from the core outwards. One of the first exercises taught is the "hip hinge".
Stand as if ready to jump, fingers on hip bones. Then imagine a table has hit your thighs, pinch your fingers and bend forwards. Keep working this movement forward and backwards.
Then work on a progression from hip hinge to hip extension. The weight training exercises such as good mornings, deadlifts, catches follow this progression.
Sprint progressions he uses are:
Starts  (from various positions).
Accelerations from 5-25 yards
Barefoot speed drills.
Sprint intervals (notice that these are last once the mechanics are right).
"Keep healthy, refreshed, sharp"
 Radcliffe defined the various aspects of strength as follows:
Core strength : bodyweight vs gravity
Absolute strength: overloads regardless of condition
Relative strength: overloads/ % of bodyweight
Dynamic strength: overloads / degree of speed
Elastic strength: overloads/ degree of rebound.
 With Athleticism increasing from top to bottom.
Within these concepts the type of overload can be changed to affect the training outcome:
Resistive Overload: Gravitational, inclination, external.
Spatial overload: range, saggital, frontal, transverse planes
Temporal overload: Operating rate, impulse
 Does Weight Training make you slower?
"The more weight you lift, the slower you move." So time in the weight room can make you train slow to be slower, or train fast to be slower.
It is better to concentrate on "movement efficiency" how you project your hips. You need more force, but then move faster too. Work on "Flex, extend, rotate" to apply this force.
The long term objective is explosive power which comes from:
Functional Strength
Directional Speed
Transitional Agility.
The short term objective is Power (endurance) reliability which comes from:
Work capacity (not necessarily more, but better)
Recoverability
Stamina.
The training cycle
Radcliff uses 14, 21,or 28 day training cycles, and uses a multitude of formats within that. He categorises the lifts as either single joint , double joint or multiple joints. He then uses sets and reps  as either fixed, plateau, stimulation or wave.
All of these are adjusted during the training cycle to allow adaptation and stimulation to take place. So even if the lifts stay the same, the ways, means and loads on them differ all the time.
The weekly cycle
Within the week, Radcliffe looks at training different emphases. For example a few days might be on vertical jumps and tosses, another on horizontal jumps with bounds and hops. He uses different complex patterns that utilise strength and power together such as:
Squat\ Jump
Pull\ toss
Push | Pass
Lunge\ Bound.
Radcliffe is dealing with big numbers of players remember (30 is a small group) so the system of training has to reflect this.
 Summary
As Oregon have had some great successes recently, no small amount of credit can go to Radcliffe.
What I liked about Radcliffe (and all the presenters), was how he had consolidated his thoughts and practices into easily digestible chunks for the young athletes.
He has a system that is adaptable, rather than off the shelf, and has been proven in practice. Over the 4 years he has the guys, he can see the progression and introduce his key principles. That is what makes him one of the best strength trainers out there.
 Next: Plyometrics and Agility.
Client Testimonials
Sean Clifford- Point Guard
I feel that training with South West Talent and James Marshall has been the best thing I've done for my basketball career so far. It has greatly improved my overall athleticism which has been a real benefit to me when on court. More importantly, however, the training has enabled me to continue playing whilst suffering from a back injury which has caused me real problems over a number of years. It has made huge improvements more recently and I am confident that I will be in good shape to play this coming season.
More
Upcoming Courses
Sports Performance Workshop: Willand
10 Apr 2019
Sporting success starts here
Are you a sporting teenager who wants to get better?
Do you play more than 1 sport?
Do you want specific advice on how you can prepare for the matches ahead?
Do you want to know how to balance school/ club sporting commitments?
This day is for you.
The Day will include: