Main Menu
Latest Blog Entry
Excelsior AD Club newsletter March 2019 We have had so much happen in the last month, and exciting things happening in the run up to Easter, it is best to keep them all in one place. So here you go. 6 members complete their Athletic Development Coaching Course Archie, Daisy, Flora, Jakin, Rebecca and Stephanie […]
User login
The Talent ID Bun Fight
"I feel pressurised as a parent to choose between sports for my daughters".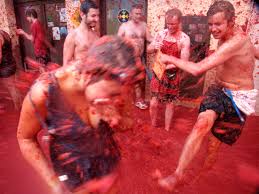 Said a concerned Mum at a recent workshop. She is far from alone. Talent identification has been misused by sports as an excuse for working kids too early and too hard.
Well meaning, but concerned, parents are being asked to ferry their children from "selection camp" to "regional centre" to "talent pathway nuclei" (O.K. I made that last one up).
They are often told that if their child fails to attend, then their sporting career is over.... at 14! Is that true?
Research consistently shows that elite sports performers come from a diverse sporting background, and only specialised at around 15-16 years old (1). Most often they are late maturers.
NGBS are trying to select "talent" at 13-14 years old and keep them in their own pathway. They recognise that there is massive competition between sports, this is especially true with female athletes who are good at both Netball and Hockey.
But "talent" really is hard to identify until after puberty and some maturation- about 16 years old. What NGBS are selecting is often "early maturers" or "early birth date" children. This is a temporary advantage that is eliminated when the children get to be 17-19 years old.
Selection is also reliant on "devoted parents": simply those parents who can survive the Corinthian task of organising the logistics of attending all these sessions.
Examples of the madness
Hockey says that players need to come up through its "Single System". This requires endless camps and selection days, with selectors looking at who made it on the squad last year, rather than who is the current best player.
This means a desperate rush to get onto the Under-16s squad so that you are "in the system".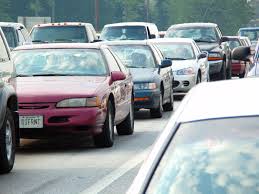 Anyone on the Under 18s squad is supposed to sign up to the AASE programme which requires extra sessions in Bristol every week.
Is that necessary for kids who are already studying for 3-4 A levels? They hardly need to be part of an apprenticeship.
Netball players in Devon have to choose between training in Bath or Truro (2 hours drive each way) every week if they want to progress.
One 15 year old I coach told Netball South West that she was struggling to get her homework done in GCSE year, she was told "do your homework in the car".
Another Netballer was told "to move to a school closer to the Talent and Performance Centre in Bath" ! Who are these people? Do they have any touch with reality?
Talent Development Model or Pay per Hour Model?
Cricket players are told to take part in "Winter nets" to stay in the county squad. The fact that year round training of a high impact activity increases the risk of spinal injury like Pars defects seems to be an afterthought.
Tennis is in it's own mad race to the bottom. 
One "Talent ID" session in Exeter was looking at 5 year olds and whether they had a chopper grip serve: 5 years old! Is that talent or a learned activity? 
I see some local 13 year olds doing 30 hours of tennis a week! This is hardly necessary at this age: what it does is line the pockets of coaches.
It is a pay per hour model (thanks to Brendan Chaplin for pointing this out to me).
It is recommended that young athletes have 2-3 months off from their sport each year to prevent burnout (1).
They could use this time to play another sport, and allow their bodies to grow, develop and recover from the one sided dominant nature of tennis or cricket or golf.
More importantly, they could play in the park with their mates. Middle class parents especially may be hampering their child's development through over formalising the process. Kids who spend more than hours a week than their age in organised sports are at greater injury risk (4).
But how would the coach earn money in that case?
Unfortunately, I rarely see a good looking athlete with a tennis racquet or cricket bat. Instead, I see a lot of early specialisers who lack all round physical skills that will help their Long Term Athletic Development (LTAD) (research articles on that link).
Note to Parents
Your child's health and well being is paramount. All else is secondary to that. Whilst you may be under pressure to make a decision that affects your child's selection in the next month, be aware that there is no evidence that early specialisation has any benefit.
In fact, early specialisation is fraught with danger: risk of overuse, injury and burnout (3). Remember that the NGBS are trying to capture your child early for their benefit: they need numbers, and they are worried about another sport getting them!
The model shown below shows 3 different strands of Talent development and the potential outcomes (thanks to Professor Jean Côté for sharing).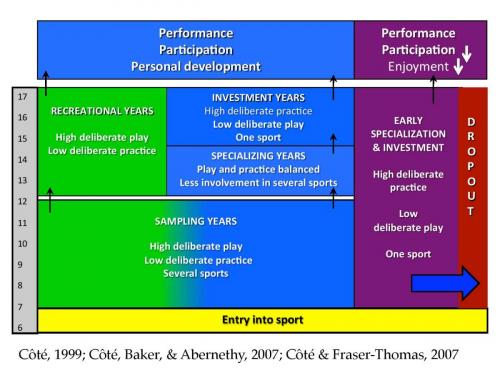 Here are the key points you may wish to consider:
Early participation is great, early specialisation less so.
Your child needs an off season from their sport: every year.
Motor skill learning is dependent on "trial and error" and "free play". The body learns better when the brain is free from too much technical instruction. Kick about games in the local park are essential.
Variety of sport and activity is crucial: water, land, jumping, bat and ball, bike, horse, board, individual, team. Get your child to taste everything: informally at first.
Competition is great: but led by kids, rather than an adult imposed top down model. Let them win and lose the street "British Bulldog Championships" and come home with scraped knees. Better than the under -12s regional 11 a side "must win" football tournament led by parents..
Play, play, play: a minimum ratio of 1 hour of play for every hour of organised activity is recommended to reduce injury risk (4).
If your child is being forced to choose: take a deep breath and gain a sense of perspective. Having fun and some down time is important for their development. It is a long term approach.
Further reading
References
P. Ford, M. De Ste Croix, R. Lloyd, R. Meyers, M. Moosavi, J. Oliver, K. Till, and C. Williams, "The Long-Term Athlete Development model: Physiological evidence and application", Journal of Sports Sciences, vol. 29, pp. 389-402, 2011

Brenner, J. S. (2007). Overuse injuries, overtraining, and burnout in child 

and adolescent athletes. Pediatrics, 119, 1242-1245.

Position Statement from the American Medical Society for Sports Medicine (AMSSM,2014).
American Academy of Pediatrics. "Sports specialization, hours spent in organized sports may predict young athlete injury." ScienceDaily, 28 October 2013
Client Testimonials
College of St Mark and St John
James is an excellent and experienced Strength and Conditioning Coach. He is able to draw on these experiences to adapt and meet each client's specific needs. James is known for his engaging and dynamic style that has proved effective in producing results. Having worked with James, he is both organized and efficient. He also is an evidence based practitioner happy to engage in debate and take on new ideas. James rightly demands high standards and a good work ethic which reflects his own contribution to each situation
More
Upcoming Courses
Sports Performance Workshop: Willand
10 Apr 2019
Sporting success starts here
Are you a sporting teenager who wants to get better?
Do you play more than 1 sport?
Do you want specific advice on how you can prepare for the matches ahead?
Do you want to know how to balance school/ club sporting commitments?
This day is for you.
The Day will include: