Main Menu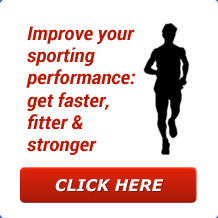 Latest Blog Entry
Sport Science: Servant or Master? Last month I attended Vern Gambetta's GAIN conference in Houston, Texas.  A great mix of practical sessions, seminars and informal idea sharing, it is my annual chance to take time out and immerse myself in learning. I shall be sharing some of the ideas and insights learnt this year. The […]
User login
Weightlifting for Throwers
Does Olympic Weightlifting Help Field Athletes Throw Further?
This week we have been looking at the overall benefits of Weightlifting for Sports people. Today we shall look at how we need to adapt our training around the lifts to a specific sport: throwing in athletics with guest author Nick Garcia.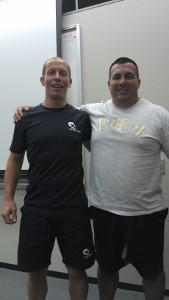 Nick Garcia is one of the leading high school coaches in the U.S.A.  For the past ten seasons he has served as the throwing coach at Notre Dame High School in Sherman Oaks, California where he has guided more than thirty five throwers over 50-feet (15-meters).
This includes more than ten each of spinners and gliders. Two of the girls he has coached have also broken 49-feet (15-meters). He is a level three USATF coach and level five IAAF coach.
I met Nick at the GAIN conference in Houston earlier this year. He did a great presentation on adapting training to throwers, plus a practical demonstration in the gym.
Nick is an active thrower and has been throwing the shot put for the last fifteen years. As a student at California State University Northridge, he was a two-time Big Sky conference champion in the shot put.
In ten years of post-collegiate training he increased his personal best to 18.35 meters. This was also done even though, by shot put standards, he is not the typical thrower. He measures just 170-centimeters (5-foot 7-inches) tall.
Transfer of Training 
As throws coaches in the sport of track and field we are often challenged with the question on what training exercises or movements transfer best to our throwing.  In the system I use, developed by Dr. Anatoliy Bondarchuk and taught to me by Derek Evely and Martin Bingisser, the exercises with the best transfer are labelled in one of two categories:
(CE) Competitive Exercises
(SDE) Specific Development Exercises. 
Sure there are other exercises in other categories that may have some transfer to the throw itself, such as the clean, the squat, etc., but I look at the CE's and SDE's as the exercises that carry the most transfer.
(All these exercises and training programmes are built up gradually by Nick, his success comes from long term development: please avoid copying and pasting these exercises without the correct preparation: James).
Such as this chain drag throw.
Lets have a look at what we mean by CE's and SDE's.  
Competitive Exercises (CE's)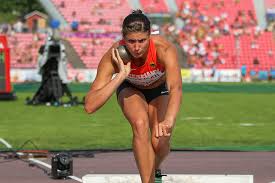 Each training Session begins with CEs.  Basically a CE is the movement you perform in the competition itself.  In the shot put it would be throwing with the rotational or glide techniques.
In the hammer throw it would be using 3, 4, or sometimes even 5 turns.  When performing CE's we always vary the weights of the implement.
However, whatever weights we choose to use are used throughout the cycle in the exact same order with the exact amount of reps each training session always keeping the competition implement within the rotation.
For example, we may choose to do a cycle with an emphasis on heavy implements for specific strength.  It could look something like this:
6 Full Throws w/8.25K,
6 Full Throws w/7.75K,
8 Full Throws w/7.26K. 
We keep it the same throughout the cycle so that our focus remains fixed on the same goal and our body can fully adapt to this set of implements.
Following that cycle we may choose to do a cycle emphasizing both a heavy and light implement looking something like this:
5 Full Throws w/8K
10 Full Throws w/7.26K
5 Full Throws w/6.75K.  
The concept of this cycle would be to make the transition from throwing heavy implements during cycle one to throwing lighter implements for cycle three a little bit easier.
Cycle 3 may look like this:
6 Full Throws w/7.26K
8 Full Throws w/6.25K
6 Full Throws w/6K.
Now that we have a description of how CE's may look during a particular cycle we can now analyze which of these implements may have the most transfer to a particular thrower.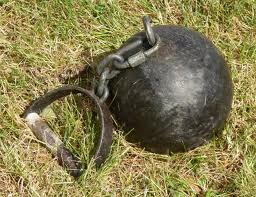 While this category of exercise in general has higher transfer, I underlined particular thrower because each athlete is different.  One athlete may have better transfer using heavy implements while another athlete may have better transfer with lighter implements.
How do we determine what carries the most transfer? DATA COLLECTION!
Each day we collect data by marking our best throws with each implement.  Ultimately we are looking at our performance data from the competition implement during both practice and competition.
I enter my data using excel and then create a line graph so I can see the peaks and valleys.  I also keep track of my personal best with each implement during each cycle.  At the end of the year I will have a look at what each cycle emphasized and at what point I had my best results with the competition implement.
Whatever cycle I had my best results with the competition implement is a good bet that the implements that were being used during that time carry the most transfer for me.
What I have I found by my data collection?
I have found that I can throw as high as an 8.25K and as low as a 6K long term without messing up my rhythm with the competition implement.
Anything above 8.25K and below 6K will have a negative effect long- term on my technique and rhythm.  I say long term because I have found that when I throw fulls with a 9K I can have huge throws with the 7.26k for the first week.  After that first week my rhythm with the 7.26K begins to decline and starts to crash.
As for the implement that carries the most transfer for me, I have found that every time I have included the 6K into my training I have had huge throws in regards to my personal bests and talent.  Therefore, if I am planning a cycle leading into a big meet I will include the 6K within that cycle.
Specific Development Exercises(SDE's) 
SDEs are movements that closely mimic the throwing motion but done with something other then a throwing implement.  It can be done from a stationary position with a plethora of different devices.
For example, a shot putter may take a heavy medicine ball (9-10kg+) and fire into a wall from a standing position.  This mimics the release point of the shot put. 
or they could putt a sandbag
or throw a barbell
or a kettlebell 
A hammer thrower can take a 10 Kilo plate and do releases for distance.  This mimics the release point of the hammer.  The transfer of this exercise is a bit tougher to pinpoint.
For discus throwers, this dumbbell throw can be used:
However, the data collection from the CE's is still important in relation to the SDE.  Once again in order to see what SDE may have the most transfer I will look at each cycle and see what SDE I was performing when my results with the competition implement were the best.
While going through the training year I will input different SDE's within different cycles of training to try and come up with the best combination for me.  Much of it is on feel and what I feel has done the best for me.
The Neider press in the gym is an example of applying some specificity prior to weightlfiting:
Find out more about the Excelsior Weightlifting Club if you are a track and field athlete in Devon or Somerset and who wants to prepare this winter. 
Client Testimonials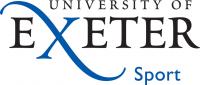 University of Exeter
James has been our lead strength and conditioning coach for the Talented Athlete Scholarship Scheme (TASS) at the University of Exeter since the scheme's inception. His attitude, professionalism and above all his drive and desire to help each sportsman and woman develop and reach their potential is exactly what we require. James shows a real interest in each of his athletes and helps them to aspire to be as good as they can and ensures that no goals are unattainable.
More
Upcoming Courses