Main Menu
Latest Blog Entry
Excelsior AD Club newsletter March 2019 We have had so much happen in the last month, and exciting things happening in the run up to Easter, it is best to keep them all in one place. So here you go. 6 members complete their Athletic Development Coaching Course Archie, Daisy, Flora, Jakin, Rebecca and Stephanie […]
User login
What are the 3 stages of fitness testing?
What is the right fitness test for your sport?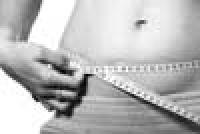 "I test athletes to justify my job" s one reason that fitness testing has become maligned and dreaded by coaches and athletes alike.
Others include "to look professional" or "to use my new bit of kit" or "to identify talent".
Yesterday I ran a CPD workshop with a group of Strength and Conditioning Coaches and sports coaches. The theme was fitness testing and we covered these three areas:
Choosing the right test.
Testing accurately and reliably.
Analysing and giving feedback.
The coaches were all prepared when they arrived thanks to a reading list, a video to watch and a written task on test selection. This meant that the workshop could be participatory, rather than passive.
When you get a group of minds together it is important to share and experience. Otherwise you may as well record the presentation and everyone can watch at home. This is the format of the Excelsior CPD programme, with the subject changing for each workshop.

Choosing the right test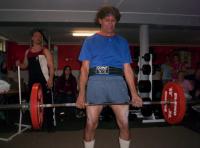 Do we need to test? Is it more measurement and monitoring rather than "testing"? This was the first discussion. My default position is Monitor rather than test. I need a good reason to test and it could be:
To see if what we are doing is working.
To measure progress.
To evaluate the players so that we can cluster them for training.
We set off by dividing the tests into health, general and specific. Health tests include biomarkers that could be considered as monitoring or measurement. Height, weight, sleep, mood, skinfolds, heart rate, sympathetic nervous system can all be monitored regularly with little effort, just consistency.
Some physical competency could also be included into this category. An overhead squat or single leg squat could be included into every warm up and observed.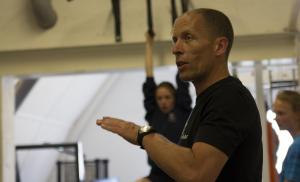 General tests would give us information about the specific fitness parameter being trained. These might include most strength tests, field endurance tests, agility and speed tests.
We know how good our athletes are at performing these tests.
Again, we are measuring what the athletes are doing in training, so we could conduct this in our training sessions.
Specific tests would be relevant to the sport and replicate specific actions. The tennis fan drills, countermovement jumps or medicine ball throws, the rugby union endurance test that requires down and up movements. Theses tests should be able to isolate one component of performance that is extremely applicable to that sport.
Agility tests that last 30 seconds, treadmill incremental VO2 max tests for Judoka, shuttle runs for 800m runners are example of tests that either measure more than one thing, or are the wrong test for that athlete.
Measuring accurately and reliably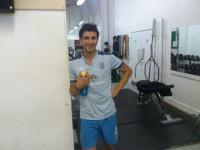 One of my pet hates (there are many) is watching athletes get inaccurately tested by "pseudo scientists".  Athletes want to get the best scores, so will find ways to cheat and take shortcuts. This might be stopping 2cms short of each line on the yo-yo test, or going over cones rather than around them.
To make the test reliable, strict warm up protocols need to be observed, as does the order of testing. If you change the warm up before each testing day, or change the order of tests, then they are unreliable. The data becomes invalid.
Carrying spare batteries, masking tape, spare pens and stopwatch are essential tools for the tester.
I split the coaches into small groups and asked them to choose three tests for their sport and to deliver one of those three. They had to come up with a rationale for each of the tests, plus a protocol on preparing and delivering.
The delivery was interesting, with errors being found by each other, plus good points. What appears to be"common sense" or "obvious" is often forgotten in the maelstrom of big groups of athletes and pressure.
Lots of mistakes and errors were found: which was excellent because everyone was learning. 
Everyone was open to feedback and constructive in giving it. This "critical friendship" is important for developing coaching skills.
Analysing and giving feedback
Another pet hate  (I told you I had a few) is athletes being subjected to tests by pseudo scientists who then go off with the data and use it for their "research" projects.
If an athlete as worked their nuts off in testing, the coach has allocated time aside for it, then it is imperative that the information is analysed and used.
I then looked at some of the lessons learnt from the data visualisation and infographics course I am currently doing.
Look at the difference between these two graphs: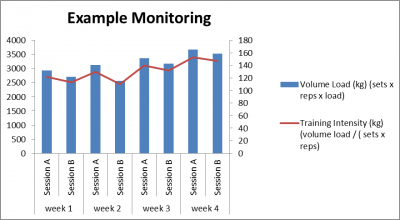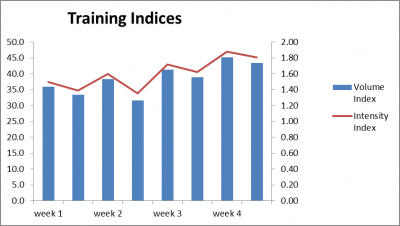 Which one is clearer? Can you see why that is?
It is quite easy to get sucked into a trap of designing graphs and charts that look pretty in 3D colour. However, as with all aspects of coaching, it is our job to make the information as clear, relevant and understandable as possible.
The workshop finished with specific lessons learnt and some ideas to help share information and data analysis.
Once again, I was delighted to see the coaches share ideas, challenge their own thinking (and mine) and come up with practical solutions to problems we all encounter.
Previous CPD workshops included "In season training" and "agility training"
If you would like to discuss fitness testing for your team then please contact James
Client Testimonials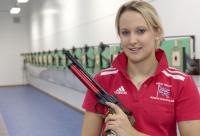 Louise Helyer – Modern Pentathlete, Commonwealth Games Silver Medallist Epee
I have been working with James since September 2009, with a history of becoming injured in winter months our main goal was to over come this and help my core/hip area to become more stable thus enabling me to run at my full potential. Not only have I made it through the winter months without gaining the usual knee injuries I have also improved my performance to currently become one of the top ranked athletes.
More
Upcoming Courses
Sports Performance Workshop: Willand
10 Apr 2019
Sporting success starts here
Are you a sporting teenager who wants to get better?
Do you play more than 1 sport?
Do you want specific advice on how you can prepare for the matches ahead?
Do you want to know how to balance school/ club sporting commitments?
This day is for you.
The Day will include: