Main Menu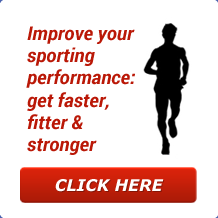 Latest Blog Entry
The benefits of dumbbell training by Istvan JavorekDumbbell training is generally safe.Does not need a large practice area.Is easy to teach (compared to barbell lifts).Can be done simultaneously and very efficiently with a large number of athletes.Is dynamic with a large range of motion (actually the range of motion is unlimited).A large range of
User login
Fitness training for Field Hockey: Part 1
Hockey fitness: what is it?
A season typically runs from September through to April in the domestic league system with internationals at various points throughout the year. Hockey fitness needs to be present for all this time.
Pre-season is generally for 4-6 weeks prior to the start of season and consists of hockey skills practice and games, a level of fitness is sometimes included.
This is either a circuit session or lots of running from my experience, but is that what is needed?
Aerobic Demands
Hockey can be classed as a Transition game sport, it requires efforts of varied intensity that occur randomly with varied rest periods. The game is 70 minutes in duration consisting of two 35 minute halves with 5 minute half time. A squad consists of 16 players, 11 are on the pitch at any one time in a variety of formations.
With improved fitness levels of players and the use of conditioning being an integral part of training, tactics have evolved as the game has become quicker. Players are constantly rotated during games depending on position, some teams making in excess of 60 substitutions during the 70 minutes.
Substitutions are occur more often with forwards and inside forwards whereas halves and fullbacks can remain on the pitch for longer spells. This has led to a more universal player being required with everyone being able to play and understand several positions.
| | | |
| --- | --- | --- |
| Position | Spell Duration (min) | Total Duration |
| Forward | 6-8 | 40-45 |
| Inside Forward | 7-9 | 45 |
| Halves | Upto 20 | 50-60 |
| Full Back | Upto 70 | 50-70 |
Rule changes such as the introduction of the self-take free hits have also increased the speed of the game and tempo at which players move. Players are looking to catch opponents off guard and so will sprint straight from the hit to beat retreating players, therefore a players ability to change direction, change speed and accelerate from a stationary position is crucial.
A study by Spencer et al concluded through motion analysis that on average a player would spend the following percentages of time at different speeds.
walking (46.5 % of time)
jogging (40.5 %)
standing (7.4 %)  
sprint take 1.5 %
A more recent study looking at Polish players by Jan Konarski states that the sprint percentage is now higher at around 3%, I believe this figure could be higher in the top international teams.
Studies have shown that players can travel on average between 8-11Km in a 70 minute game, this varies depending on position and now with constant rotation of players how much time spent on the pitch. The study by Jan Konarski recorded the distances covered at which speed (Table 1 )
Table 1
| | | |
| --- | --- | --- |
| Speed | Distance Covered (Km) | Variance (plus or minus) |
| Walk | 4.6 | 0.4 |
| Jog | 4.6 | 0.5 |
| Stride | 0.7 | 0.1 |
| Sprint | 0.25 | 0.05 |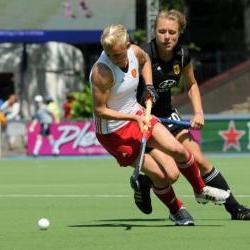 Heart rate measurements that have been taken show that a players maximum rate can reach 180 bpm indicating hockey being an extremely intense game, average heart rate was around140 bpm .
These results along with distances covered and varying speeds of the game show that an overall endurance needs to be increased, as 60% of a players effort is aerobic.
But, due to the maximal heart rate measure and sprints being required an athletic development coach also needs to work on the anaerobic system.
Common Hockey Injuries
Many injuries occur through impact with either a hockey ball or stick, we can only attempt to prevent these by using protection such as gloves, facemasks, shin pads and gum shields.
With all games now being played on synthetic pitches the loading has considerably changed from when games were on grass. Loading has increased during running with the harder surface, this means that more stress is being placed on the skeletal and muscular structures.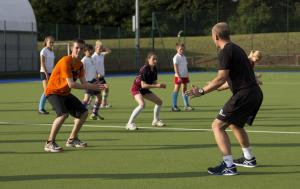 The use of synthetic pitches has also meant a more unstable surface, which in turn means more injuries through twisting and straining ligaments and muscles within hip, knee and ankle complexes.
(Picture of James Marshall coaching the correct braking mechanics).
The one sided nature of hockey if not managed can lead to muscle imbalances and skeletal dysfunctions.  Poor posture during playing can result in the body compensating by using other muscles, for example you can rely heavily on your quadriceps and have weak hamstrings when in a squat position, this leads to your back compensating by flexion of the spine.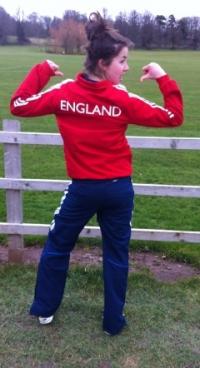 These imbalances can be seen in older players when you look at musculature, one side of the back will have larger muscles while the opposite side will have smaller weaker ones.
These imbalances can lead to further problems like rotated pelvis and functional leg length discrepancies due to muscles becoming tight or weak within the hip complex.
Strength for Hockey
Strength has in my experience been an optional part of training, players get told to go for long runs, do sprints or doggies. This old fashioned approach has led to injuries and many hours spent trying to correct imbalances.
Hockey is technically a non-contact sport, however there is requirement for the body to cope with low impact forces of running and an element of upper body strength to assist with hitting a ball and holding your ground when in a tackle.
When hitting a ball from a stationary position the feet are planted or with a slight step into it, knees should be bent, back should be straight (similar to deadlift position).
As the stick is pulled back there is a rotation about the hips, spine and shoulders. During the hit the previous rotation is uncoiled creating a powerful rotation from the hips up through the spine to the arms.
A player will need to work on holding positions statically and dynamically in order to make him stronger for the requirements of the game, working on running technique and assisting muscles will also be beneficial.
 Duncan Buckmaster
Read Part 2: The hockey fitness training tips that really work                 
References
CHARACTERISTICS OF CHOSEN PARAMETERS OF EXTERNAL AND INTERNAL LOADS IN EASTERN EUROPEAN HIGH LEVEL FIELD HOCKEY PLAYERS Jan Konarski – Journal of Human Sport & exercise, Vol 5, No.1, Jan 2010
SPENCER M, LAWRENCE S, RECHICHI C, BISHOP D, DAWSON B, GOODMAN C. Time- motion analysis of elite field hockey, with special reference to repeated-sprint activity. J Sport Sci. 2004; 22:843-850.
Newsletter Sign-Up
Client Testimonials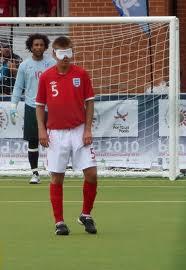 Robin Williams GB Footballer Paralympian
I have been training with James for over four years now and firmly believe he has played a key role in my transformation as an athlete and therefore as a footballer. It's fair to say I was in poor condition in various aspects when we first met, however, James' ability to focus on the most important things and eliminate the baggage from training has enabled me to develop rapidly, having missed selection for the 2009 European Championships I am now a regular in the starting lineup.
More
Upcoming Courses