Main Menu
Latest Blog Entry
"A pessimist complains about the wind, an optimist waits for it to change, a leader adjusts the sails." (source unknown) sent by John Mallett.
User login
Fit for fencing: part 2
Getting young fencers fit
We are currently working with the South West Junior Fencing Hub introducing and developing fitness protocols. The first session was an introduction to fitness by me, Matt took the second session.
Part of the Hub's remit is coach development, and self-reflection is an important part of that. Here are Matt's thoughts on how he managed the day.
Fifty fencers in a room and no kit!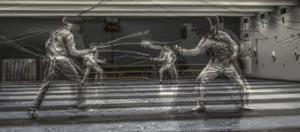 As James mentioned here, we are often given large numbers of people to train at one go.
This day saw 50 fencers from across the South West region come to take part. It included sessions in psychology, technical skills and athletic development.
The task of coaching athletes from a new (from my perspective) sport was undaunting , as the first step is to look at the individual, rather than the specific sport. The prospect of taking 50 young athletes for a warm up however was a different story!
After a warm up involving some interesting interpretations of the core pillars exercises, the fencers went through a self-assessment in pairs. As well as making this more manageable for myself (only needing to asses half the group at one time), the process of coaching each other helps the athletes remember the main points more easily.
We talked about the importance of regularly practising the exercises in order to improve technique and reduce likelihood of injuries.
"We do a lot of strength training; we are lifting really heavy now"
When asked about the conditioning that they were currently doing, the answers ranged from none at all to 3-4 times a week. However those that were regularly completing conditioning training seemed to describe most sessions as heavy load strength training.
Although strength is an important factor in both performance and injury prevention, it is the application of strength which is more important. Therefore it is just as important for athletes (and especially fencers) to work on spatial and temporal overload rather than just resisitive overload.
Working with other coaches
As a novice with regards to fencing, all the coaches on the day were very generous and took a lot of time to explain the differences between the different disciplines (was quite a lot to take in).
Spending time with the coaches during the technical parts of the training was also useful as I was able to pick up coaching points relating to footwork and posture. With more experience, I may have been able to apply these points during the day, but I will learn from them and apply them next time round.
On the other hand, I also hope I was able to offer the coaches some useful insights. Many of them explained that lack of time with athletes meant that they did no conditioning work at all as part of coaching sessions. I suggested taking a few exercises from the session I had delivered and using them as a warm up, as for some fencers, this would be the only time they may work on those skills.
It was great to be around so many athletes and coaches working hard to improve themselves and each other, and I look forward to the next opportunity of working with them.
Matt Durber
Read more on fencing fitness
Client Testimonials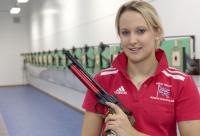 Louise Helyer – Modern Pentathlete, Commonwealth Games Silver Medallist Epee
I have been working with James since September 2009, with a history of becoming injured in winter months our main goal was to over come this and help my core/hip area to become more stable thus enabling me to run at my full potential. Not only have I made it through the winter months without gaining the usual knee injuries I have also improved my performance to currently become one of the top ranked athletes.
More
Upcoming Courses