Main Menu
Latest Blog Entry
Excelsior AD Club newsletter March 2019 We have had so much happen in the last month, and exciting things happening in the run up to Easter, it is best to keep them all in one place. So here you go. 6 members complete their Athletic Development Coaching Course Archie, Daisy, Flora, Jakin, Rebecca and Stephanie […]
User login
Strongman Training with Glenn Ross
"Last year I pulled a 47 ton plane"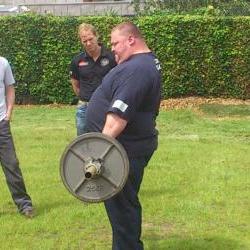 That can be added to the list of sentences I will never say! At the recent RFU Strength and Power Conference I spent the morning in the company of 4 time UK Strongman champion Glenn Ross.
He and his two assistants, Eddie Hall and Johnny Kelay, went through a series of strongman training exercises aimed at getting stronger for rugby.
The aim was to show the training routines that Strongmen use, and then how to apply them for rugby. They concentrated on grip strength and getting low- staying strong.
Strongman Grip Training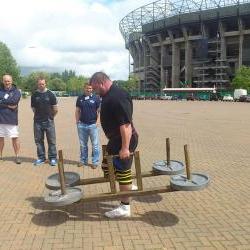 Grip is a tough thing to train. "A shin bone takes 4 hours to cook" according to Glenn Ross, and the forearm is just as tough.  Grip can be trained specifically 3 times a week, at the end of your normal workout.
Grip is important in grappling, grabbing and sheer rawness. Every ruck, maul and tackle should require grip strength. If you use straps when training to help you deadlift or power clean, then you are not working on your grip.
Instead try the Farmers Walk. Eddie and Johnny demonstrated the Farmers Walk with a 300kg frame (pictured).
Different size bars can be used to work on grip too. Glenn was big on getting into contact with local welders and builders merchants to get things built more cheaply.
Scaffold bars can be used instead of power bars as they are wider and more awkward. The total lift won't be as great, but your grip will have to work harder.
Getting Low and Staying Strong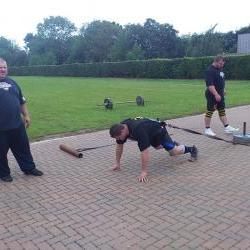 Thick ropes can be used for pulling and towing, sleds, cars (planes!) or even holding in isometric positions leaning back at a 45 degree angle.
Getting into a low position and being strong in that position is very important for scrummaging, tackling, driving with the ball, rucking and mauling. Glenn showed this with towing, pushing and log wrestling.
When towing, get a really heavy object behind you. This forces you to lean really far forward and have your nose nearly on the floor. It won't make you move fast, but it will get your body angle in a new position that you will find to hard to replicate in the gym.
The log wrestle was interesting, it was like a sumo wrestler fight in a ring, with the 2 men holding each end of an 8 stone log and trying to force the other man out.
Eddie Hall is 4 stone heavier than Johnny Kelay, but got shoved out 3 times in a row because Johnny was lower and had better leverage.
Eddie was blowing hard at the end of this, even though it lasted for about 20 seconds (it was his first time doing this).
Carrying Heavy Objects to get Stronger
If you have seen Strongman competitions, you will have seen the competitors lift up Atlas Stones and carry them forward. "These are only 100kg stones" said Ross as Eddie and Johnny performed a short relay of pick up, carry and drop.
They also carried a home made yoke which puts a tremendous load through the back and shoulders with 325 kg moving around on your back. Carrying awkward objects forces the body to adapt and adjust which has some transfer to tackling and rucking.
Glenn's tip for the yoke carry was to get underneath, then push the arms away at a 45 degree angle to create a natural table on the shoulders.
Getting Stronger for Rugby
I am a bit of a cynic on this, because it seems that every rugby club in the country goes through a tyre flipping phase, following the run through ladders phase, and now the small sided games phase.
The important thing is context. In order to get stronger and more powerful for rugby, a multi dimensional approach is needed. Some strongman training is beneficial, but it is the application of strength that is most useful.
With developing players, lighter loads and different objects could be used. Like all training, strongman training should follow principles of overload, progression and recovery. The training has a massive fatiguing effect (details here).
Glenn recommended doing a 2 hour training session every week, with 10 minutes rest between exercises. I don't think many rugby coaches would appreciate that work: rest ratio.
Instead, why not do 1 or 2 of these exercises in each training session? The little and often approach will work in and around your technical/ tactical sessions. It might be useful to do in winter when morale is sapped due to rain and mud.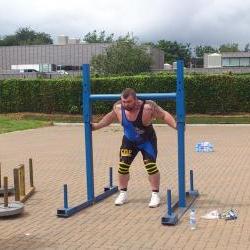 Glenn emphasised the fact that Strongman training is fun and that players enjoy it. It has to be put into context, or it will be an object in itself. I would do a Strongman competition type day at the end of each year, once the exercises have bee practiced and developed.
Flipping tyres will not help you run around people! But, I wouldn't want to try and maul against Glenn Ross.
To learn how to apply the right techniques and exercises at the right time, why not come to one of our workshops here?
Client Testimonials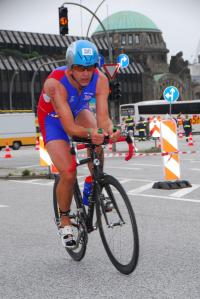 David Ardley- triathlete
I had the pleasure (I think !) of working with James for a year or so focused on getting my Triathlon times down. Its amazing what was achieved in the space of an hour before work. What stood out for me is the constant variation of exercises and his ability to set the difficulties levels just right. His sense of humour and competitive spirit always helped when my energy levels were not quite there. I can attribute his structured training to my eventual success competing in the World Triathlon championships (age group) in Hamburg.
More
Upcoming Courses
Sports Performance Workshop: Willand
10 Apr 2019
Sporting success starts here
Are you a sporting teenager who wants to get better?
Do you play more than 1 sport?
Do you want specific advice on how you can prepare for the matches ahead?
Do you want to know how to balance school/ club sporting commitments?
This day is for you.
The Day will include: