Main Menu
Latest Blog Entry
Excelsior AD Club newsletter March 2019 We have had so much happen in the last month, and exciting things happening in the run up to Easter, it is best to keep them all in one place. So here you go. 6 members complete their Athletic Development Coaching Course Archie, Daisy, Flora, Jakin, Rebecca and Stephanie […]
User login
Speed Training for Gymnasts
How to get to the Vault or Double Mini Trampoline quicker
.In order to generate a bigger jump, gymnasts need a faster approach to the Vault or Double Mini Trampoline (DMT). This involves them running for about 20-30m and then jumping onto a springboard or the DMT.
Speed training for gymnasts starts with posture (again)..
Regular readers and athletes I work with will know that I start off with posture. It is hard to run fast if you are sagging like a jellyfish before you start.
Whilst gymnasts are very strong at what they do, their lifestyle is affecting their standing and running posture.
We have to put certain exercises and training in first to allow their bodies to get strong and support the speed. This is developing their structural integrity.
Coach the cause rather than the symptom
I made a mistake when first working with the Wellington Whirlwinds on trying to fix the very strange arm actions that the trampolinists had when running. I worked hard at getting them to use an "elbow high and back" arm action to be more efficient.
However, Gary Winckler had previously spoken to me about the upper body being an indicator of what was going on below. When I saw Gary at GAIN  a few years ago, I said I had some sucess and he said the weird arm action was due to gymnasts being excessive plantor flexors which leads to straight leg running action, which then leads to straight arms.
DOH! Blindingly obvious when I thought about it. I had been working on the overall sprint mechanics but had been distracted by the arms.
We did a specific speed session out on the track with the group which was a break through moment. We established some common drills and common language which made it easier to go back into the gym and coach on the runway.
This included:
start positions
co-ordination drills
to help the run action. Speed for gymnasts needs to be constantly refined and the warm ups are a good place to reinforce these correct mechanics at every opportunity.
Shorten the run up
When working with the youngsters at Gemini, I asked them why they started their run up where they did: they were just guessing.
When I watched them approach the vault, there was a lot of pitter pattering as they got near and they were slowing down. This meant a loss of speed.
I got them to start near the springboard, then go back two metres at a time to see how they could maintain their speed. When they started the pitter patter, they went forward again two metres. That was their new start position.
I got the youngsters to self assess where they should start, rather than Carolyn and I dictate. This became an "honesty competition" and we were delighted that they became very accurate on their self assessment.
There is little point starting a run up from 30 metres away, then having to slow down as you approach take off. Instead, start short, get used to the take off and gradually increase the distance as you run faster and you can control that speed. Speed for gymnasts is different from top speed running because of the short  distance.
When I coached at Exe Valley Gymnastics I helped this this young gymnast who is very fast. She has a short run up (due to hall constraints) but really attacks the vault   
Her foot strike is excellent, as is her hip position of the stance leg. However, she does use her arms too early, looking more like a long jumper here.
Here is me doing a less technically good  and slower vault, but using the arms correctly: 
Summary
Speed training for gymnasts is a work in progress because as the gymnasts develop their technical skills and perform more complex routines, they need more approach speed.
As they develop more approach speed, they need to be able to convert that speed into vertical/ horizontal jumping ability.
Underpinning all of this is strength/ posture to allow them to move efficiently and be robust enough to withstand the rigours of training.
Thanks to Carolyn and Bernie and everyone at the clubs for their input and efforts.
I am currently implementing these ideas in Willand and Wellington with the young gymnasts I work with at our gymnastics club.
Client Testimonials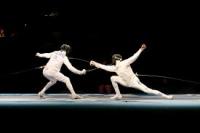 South WestFencing Hub
Working with James has been a pleasure and education for all of the fencers and coaches, from beginner fencers and trainee fencers, up to international fencers and coaches with decades of experience. We really appreciate James' desire to challenge assumptions but simultaneously his ability to listen to both fencers and coaches on technical and tactical points. He manages to keep his sessions fresh and innovative without losing sight of our central goals. His sessions are challenging and fun and his attention detail is a tribute to his professionalism. Thank you.
More
Upcoming Courses
Sports Performance Workshop: Willand
10 Apr 2019
Sporting success starts here
Are you a sporting teenager who wants to get better?
Do you play more than 1 sport?
Do you want specific advice on how you can prepare for the matches ahead?
Do you want to know how to balance school/ club sporting commitments?
This day is for you.
The Day will include: