Main Menu
Latest Blog Entry
Excelsior AD Club newsletter March 2019 We have had so much happen in the last month, and exciting things happening in the run up to Easter, it is best to keep them all in one place. So here you go. 6 members complete their Athletic Development Coaching Course Archie, Daisy, Flora, Jakin, Rebecca and Stephanie […]
User login
Structural Integrity
How do I start training?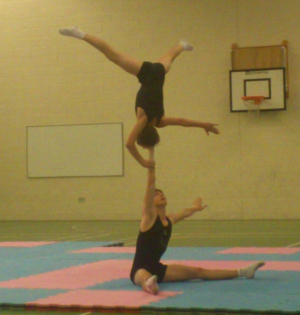 In the rush to get results fast and take shortcuts, or to "get to the interesting stuff" young athletes get broken. Improving the structural integrity of the athlete is essential before moving onto other areas of fitness.
Watching Alien Covenant this week prompted me to update this blog as they used the phrase also.
I used to say that Structural Integrity is composed of  4 key components:
Posture: Static and dynamic, countering gravity.
Balance: Static and dynamic, upper/ lower body, single limbs.
Stability: Joints are strong and can support body weight when moving and static.
Mobility: How you control limbs over a range of movement.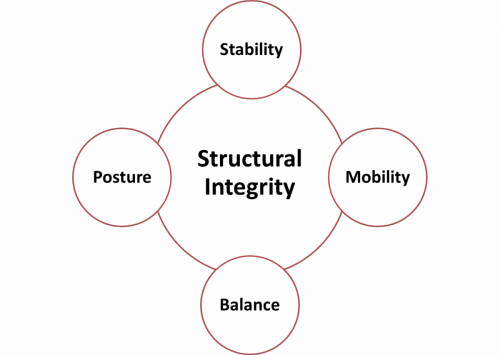 But, when presenting at the DAASM symposium in April, I was challenged on the use of "stability" By Dr. Homayun Gharavi MD, PhD, PhD. He suggested that the word "control" is better than stability. Stability has been overused and is vague, the body is designed to move, unlike a table, and so control is more accurate.
This means the new schematic would be this: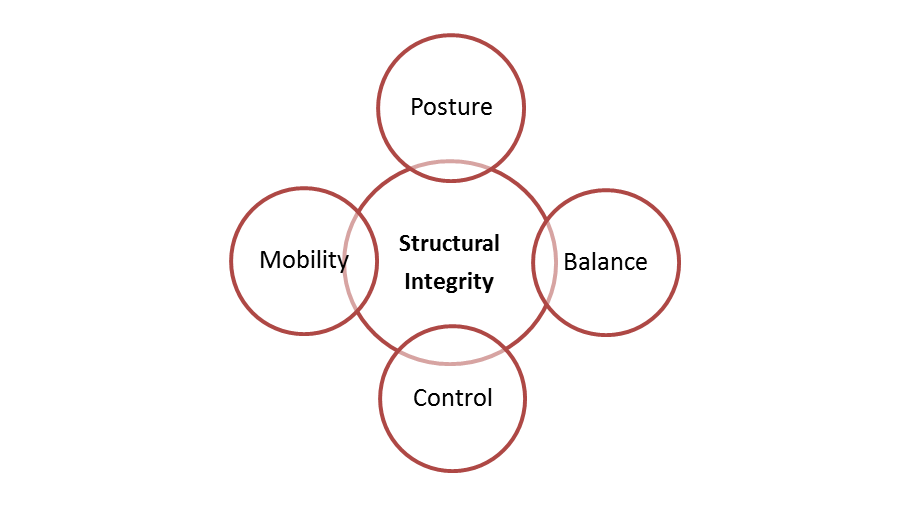 The Foundation of Athletic Development
Most of the athletes I initially encounter have glaring deficiencies in their structure or posture that limits their ability to progress.  Loading athletes like this either through volume, intensity or weight, will lead to breakdowns. Saying someone needs to get fitter and then giving them a running programme, without seeing them run, is poor coaching.
Instead, after their initial musculo skeletal and movement screening, we start to work on their structural integrity. This is the foundation of Athletic Development and then allows the athlete to work on their athletic ability involving spatial awareness, rhythm, movement abilities and timing. This then allows greater ease of skill acquisition. In this video you see an example of work with young gymnnasts.
Only then do we start on our training programmes. The first month of the Sports Training System is designed to enhance structural integrity.
N.B. I thought this was an original term on my part, but then realised that it was inherited from watching too much Star Trek!
"The hull has been breached and is losing its Structural Integrity Cap'n" and so on!
Client Testimonials
Sean Clifford- Point Guard
I feel that training with South West Talent and James Marshall has been the best thing I've done for my basketball career so far. It has greatly improved my overall athleticism which has been a real benefit to me when on court. More importantly, however, the training has enabled me to continue playing whilst suffering from a back injury which has caused me real problems over a number of years. It has made huge improvements more recently and I am confident that I will be in good shape to play this coming season.
More
Upcoming Courses
Sports Performance Workshop: Willand
10 Apr 2019
Sporting success starts here
Are you a sporting teenager who wants to get better?
Do you play more than 1 sport?
Do you want specific advice on how you can prepare for the matches ahead?
Do you want to know how to balance school/ club sporting commitments?
This day is for you.
The Day will include: