Main Menu
Latest Blog Entry
Excelsior AD Club newsletter March 2019 We have had so much happen in the last month, and exciting things happening in the run up to Easter, it is best to keep them all in one place. So here you go. 6 members complete their Athletic Development Coaching Course Archie, Daisy, Flora, Jakin, Rebecca and Stephanie […]
User login
How to acquire skill in strength and conditioning
"Skill learning isn't just skill learning, it's preparation"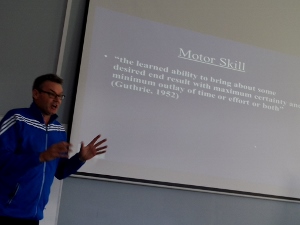 John Brierley in his skill acquisition lecture on our level 3 coaching strength and conditioning for sport course.
Ever see the 5 sets of 5 programme for squats, power cleans and bench press? Dull as dishwater!
If we want our athletes to develop, we need to challenge their skill. If we fail to do that they get bored.
John's theme was how can we make ourselves redundant as coaches: "It's not our responsibility to keep control of their learning."  Instead, we need to "Get people to be in love with the activity" and then that stands them in good stead later on.
That's coaching. How do you coach in the gym? Is it just handing out sets and reps and increasing the weight?
Do you crank up the music to create "atmosphere" and remove the human contact between coach and athlete?
These were the questions John was asking us as coaches. If we are to be successful (and by that I mean getting our athletes performing in the arena) then we need to improve our coaching, including motor skill acquisition.
Motivation and motor skill acquisition go together
If we get the athlete motivated, then they are more likely to acquire the skill.
This comes down to structuring the practice well, using the right level of task difficulty and then using the correct cues and feedback.
We spent some time doing this as a group as John broke out his Mary Poppins bag of coaching aids.
We had to perform a juggling task, test it, then do 2 minutes of practice with some video feedback, rest, then practice more. We then retested at the end.
There was minimal chat, some cues such as "think drainpipe rather than teapot" and short focussed practice. The idea was that by looking at the video, and trying 1 or 2 cues, we could improve.
(Duncan proved to be a juggling whiz, so whilst we were dropping tennis balls, he was progressing from 2 to 3 balls, to mishaped objects, to juggling clubs: John was well prepared with stuff!).
This structure was similar to the micropractice work we did in December.
"People are never as physically tired as they are mentally". We can give the athlete breaks in practice when the skill is hard to achieve. Rest them physically, but work on something else.
I apply this with athletes as just when they are looking comfortable or familiar it is time to move on (temporarily) to something else. Boredom sets in otherwise, and the learning stagnates.
Decision making counts
Skill rarely happens in isolation in sport. Instead, it is the decision making that counts. "Don't take the decision making out of it". Practice needs to be variable:
Short, long or medium length.
Shooting/ rehearsing dominant/ non-dominant.
Slower vs faster.
Change the environment and context.
As we set down our learning pattern, we won't remember the rep, but we will remember the context in which we practiced.
How do you structure your practice?
Is it the same every time?
Are your athletes getting better at some pre-programmed activities?
How do you know if that can then be applied to the sport?
I left the course with a lot of questions I have to ask myself, and I was the lead tutor!
Summary
John's wealth of experience working in football and athletics enabled him to share practical examples of challenges within teams and high pressure situations.
His approach of "how to get everyone working together" was insightful and useful for all the coaches.
"Less is more" seemed to be one of the themes of the course: simpler, more effective cues. Have fewer exercises, but coach them really well, and change the context and environment in which we practise them.
Marius and Andy had emphasised this on the first weekend of the course too.
The rest of the weekend was spent looking at how all the pieces of the puzzle fit together: planning the year, the month the week and the individual session.
I wanted the coaches to be asking the right questions of themselves and of their athletes; perhaps most importantly
How can I help my athletes improve their performance where it counts?  The competitive arena.
If you would like to host a course at your school or club, please see what we offer here
Further reading
Client Testimonials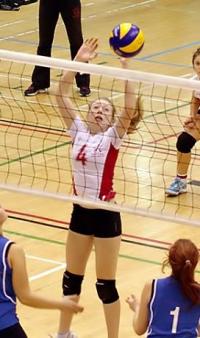 Helen Farr
The access to expert advice on training and coaching in the STS has been extremely beneficial when guiding Helen (15) through different stages of her physical development. Time is very precious and especially as busy parents of even busier teenagers, we need all the help we can get. As well as following the programme, it has been really useful to dip into certain topics as and when situations occur. Advice on how to prevent and counteract knee problems was certainly helpful when Helen started complaining that 'her knees were hurting' directly after competitions.
More
Upcoming Courses
Sports Performance Workshop: Willand
10 Apr 2019
Sporting success starts here
Are you a sporting teenager who wants to get better?
Do you play more than 1 sport?
Do you want specific advice on how you can prepare for the matches ahead?
Do you want to know how to balance school/ club sporting commitments?
This day is for you.
The Day will include: