Main Menu
Latest Blog Entry
"A pessimist complains about the wind, an optimist waits for it to change, a leader adjusts the sails." (source unknown) sent by John Mallett.
User login
Dumbbell exercises
Variety of dumbbell exercises useful for all athletes.
Client Testimonials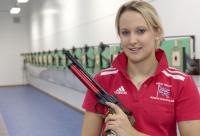 Louise Helyer – Modern Pentathlete, Commonwealth Games Silver Medallist Epee
I have been working with James since September 2009, with a history of becoming injured in winter months our main goal was to over come this and help my core/hip area to become more stable thus enabling me to run at my full potential. Not only have I made it through the winter months without gaining the usual knee injuries I have also improved my performance to currently become one of the top ranked athletes.
More
Upcoming Courses