Main Menu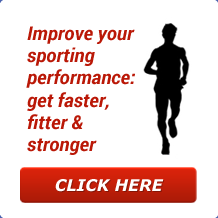 Latest Blog Entry
Autumn Term means new beginnings School term has resumed which means the end of Summer Athletics and the resumption of gymnastics and weightlifting in Willand and Wellington. Here is a brief synopsis of what is happening. Fundraising: we have been short listed from over 700 applicants for the Skipton Grassroots Giving Campaign. In order to […]
User login
Flexibility Training
As part of the Excelsior Sports Training Programme, I did a joint workshop with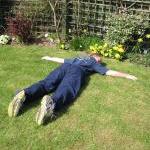 Sarah Marshallyesterday on flexibility training. We had 30 young athletes doing 90 minutes of stretching.
The format was:
Warm up- squats and multi directional lunges.
Back stretches on the floor- rotational, flexion, extension.
Back stretches in standing- using a wall.
Hamstring and quad stretches in kneeling.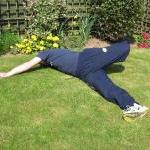 The major objective of the session was to get the athletes to go away with their own individual stretching programme.
They had to write down in their training diaries the various stretches we were doing and mark the ones that suited them.
The key points were:
Move slowly.
Breathe 5- 6 times deeply whilst holding a stretch.
Find the ones that work for you- if you aren't getting a stretch, move to a different one.
Variety of stretching is important, don't just do the same 2-3 exercises and expect different results.
Take note the differences between front and back and left and right side and work on that.
(Pictured is me doing the scorpion stretch as requested).
Stretching works
Setting out the flexibility plan is relatively easy. Getting the athletes to do it regularly is more difficult. Having  a variety of stretches, and for different events helps.
Those of our athletes who practice do get more flexible.
This video shows a fun example of a stretch routine. You may wish to start with something simpler.
Further reading:
Newsletter Sign-Up
Client Testimonials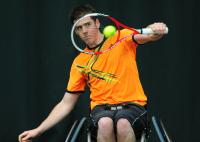 Josh Steels: wheelchair tennis
I started working with James 3 years ago via the TASS programme. When James first met me, physically I was nowhere the best I could be. Since working with James I have seen vast improvements in my fitness and strength which has been put into great use on court.Each session is worked around making sure I am able to get the best quality training as well as catering for my chronic pain and fatigue levels. On top of this James has always been happy to meet at facilities that are best for myself meaning I could fit training sessions in on route to tournaments or camps.
More
Upcoming Courses
Level 1 Strength and Conditioning Course – Horsham, Sussex
14 Oct 2017
Level 1 Strength and Conditioning Course – Horsham. 14th -15th October 2017 Venue: Christ's Hospital, Horsham, W. Sussex, RH13 0LA. Assessment Day: Sunday 3rd December 2017. Cost: £280 including materials and access to online resources. To book send a deposit of £100 here. The deposit is non refundable.  Once the full balance has been paid and your place […]