Main Menu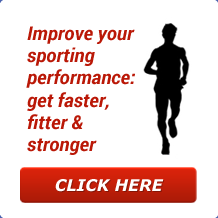 Latest Blog Entry
Intro   Getting ill sucks! We've all been there, tucked up in bed shivering and feeling sorry for ourselves. Here is my guide to avoiding the flu. Nobody enjoys being ill and it can have a terrible effect on an athlete's fitness, training and performance. Not only does having a blocked nose reduce performance, it […]
User login
Flexibility Training
As part of the Excelsior Sports Training Programme, I did a joint workshop with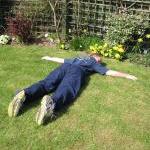 Sarah Marshallyesterday on flexibility training. We had 30 young athletes doing 90 minutes of stretching.
The format was:
Warm up- squats and multi directional lunges.
Back stretches on the floor- rotational, flexion, extension.
Back stretches in standing- using a wall.
Hamstring and quad stretches in kneeling.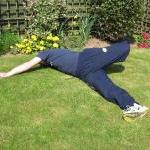 The major objective of the session was to get the athletes to go away with their own individual stretching programme.
They had to write down in their training diaries the various stretches we were doing and mark the ones that suited them.
The key points were:
Move slowly.
Breathe 5- 6 times deeply whilst holding a stretch.
Find the ones that work for you- if you aren't getting a stretch, move to a different one.
Variety of stretching is important, don't just do the same 2-3 exercises and expect different results.
Take note the differences between front and back and left and right side and work on that.
(Pictured is me doing the scorpion stretch as requested).
Stretching works
Setting out the flexibility plan is relatively easy. Getting the athletes to do it regularly is more difficult. Having  a variety of stretches, and for different events helps.
Those of our athletes who practice do get more flexible.
This video shows a fun example of a stretch routine. You may wish to start with something simpler.
Further reading:
Newsletter Sign-Up
Client Testimonials

Millfield School
For the past 2 years, as Head of Athletic Development, James has made a significant contribution to the development and understanding of athletic development among our sports programmes. With knowledge and passion, he has continually championed best practise in relation to the athletic development of young athletes, and been unstinting in the rigour of its delivery. As a coach, James has made a direct contribution to the development of several prominent individuals, as well as more broadly to our squads.
More
Upcoming Courses
Educational Gymnastics: 23rd November, Devon.
23 Nov 2017
Educational Gymnastics Children today are physically illiterate. The massive reduction in time spent in free play has led to a generation of people who have yet to experience the joy of movement. Formal gymnastics (as seen at the Olympics) requires the child to strive to perform very specific skills. The end product of the skill […]