Main Menu
Latest Blog Entry
Excelsior AD Club newsletter March 2019 We have had so much happen in the last month, and exciting things happening in the run up to Easter, it is best to keep them all in one place. So here you go. 6 members complete their Athletic Development Coaching Course Archie, Daisy, Flora, Jakin, Rebecca and Stephanie […]
User login
What has happened to P.E in this country?
Progression, Variety, Precision
These were the 3 cornerstones of Physical education and a gym culture where "you went to learn, not to train" according to Ed Thomas at GAIN V this year.
Dr Thomas is a mine of information on the history of P.E. (I don't mean a GCSE syllabus) and its educators.
He is pictured here helping Andy Stone get to grips with inverted brachiation training (read more on this from Thomas here)
"A perfect storm of ignorance" has led to sports replacing physical culture. If you look at our "PE" lessons you will see that they are really games lessons.
Blame it on basketball
Schools used to have gymnasiums filled with equipment that allowed participants to do a myriad of different exercises in large groups safely. They were taught in formations and shown how to teach each other.
This led from the floor, to above the floor training using ropes, beams and bars. This is why pull up scores were so good in those days (In 1948 the Iowa high school fitness manual stated that in order to get an A grade, you had to be able to do 44 pull ups).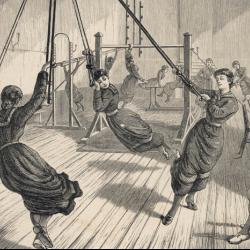 Then, someone invented basketball and the schools had to remove all the kit and allow that to take place.
This meant that the PE had to move into the playground, which depended on the weather, and so a decline took place.
Look at the girls in the picture on the right, and compare that to the "fitness suites" that schools insist on using nowadays where girls completely disengage and listen to ipods on cross trainers!
Methods, Materials and Motivators
3 things the ancients had according to Thomas. I can't really do justice to the depth and width of his knowledge, but the detail of the systems and structures that were in place hundreds and even thousands of years ago was enlightening.
Some key points I learnt:
Systematic teaching methods and organisation of big groups helps learning
Posture in the workplace or school classroom needs addressing (I will cover this in more detail soon). It is the foundation of all sporting movements.
PE assumes greater importance every time a nation goes to war
The link between Restorative, Martial, and Pedagogical systems is key.
The link between Personal, Interpersonal and Transpersonal health is also key.
Seeing him speak and spending time with him over the 5 days made me realise how poor and shoddy PE in this country is. We have gone backwards over the last 100 years, and especially over the last 30 years.
That is why I am running a series of workshops and offer training courses for the PE teachers who do want to try and influence the next generation. Otherwise our whole country will suffer from a lack of knowledge and ability.
This is the first in a series of blogs looking at some of the key concepts that were discussed and delivered at the Gambetta conference in Houston I attended in June this year (hereafter GAIN V).
Client Testimonials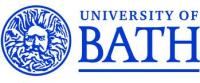 Bath University
"James worked with the Exeter and Taunton based Southwest Talent Centre scholarship athletes. He is deeply knowledgeable about strength and conditioning and has excelled at working with young athletes. His sessions are challenging and fun and he has succeeded in blending a group of athletes from a diverse range of sports into a cohesive training group.
More
Upcoming Courses
Sports Performance Workshop: Willand
10 Apr 2019
Sporting success starts here
Are you a sporting teenager who wants to get better?
Do you play more than 1 sport?
Do you want specific advice on how you can prepare for the matches ahead?
Do you want to know how to balance school/ club sporting commitments?
This day is for you.
The Day will include: